REBUTTAL BY
Oh this is some good stuff. Time to refill the popcorn bucket, boys and girls. On the heels of direct anti-Soros attacks by Q-Anon (a known project of Team Trump); and anti-Soros statements made by Attorney General William Barr; Trump operative, legendary crime-conspiracy buster, and long-time friend of Trump, Rudy Giuliani is publicly smashing George Soros -- and, in the process, ripping away that veil of relative anonymity which is so comforting and necessary for high-level conspirators such as Soros. You see, we "right wing" news-junkies may know all about Georgie, but the clueless mass of misinformed normies of "centrist" America have no idea who he is or what he does. That may be all about to change. Quoting Rudy:
"Soros put all four ambassadors there (Ukraine). And he's employing the FBI agents. Don't tell me I'm anti-Semitic if I oppose him.
Soros is hardly a Jew. I'm more of a Jew than Soros is. I probably know more about — he doesn't go to church, he doesn't go to religion — synagogue. He doesn't belong to a synagogue, he doesn't support Israel, he's an enemy of Israel. He's elected eight anarchist DA's in the United States. He's a horrible human being."
Tell it, Rudy. Tell it! And when pressed hard on the matter by certain "critics" (cough cough), Rudy stood firm and "doubled down" on his "anti-Semitism ™."
Headline: Huffington Post: Rudy Giuliani Doubles Down On Anti-Semitic Attacks Against George Soros
Headline: Israel National News: Giuliani Doubles Down on Comments
Headline: The Times of Israel: Rebuked for 'Offensive' Remarks, Giuliani Doubles Down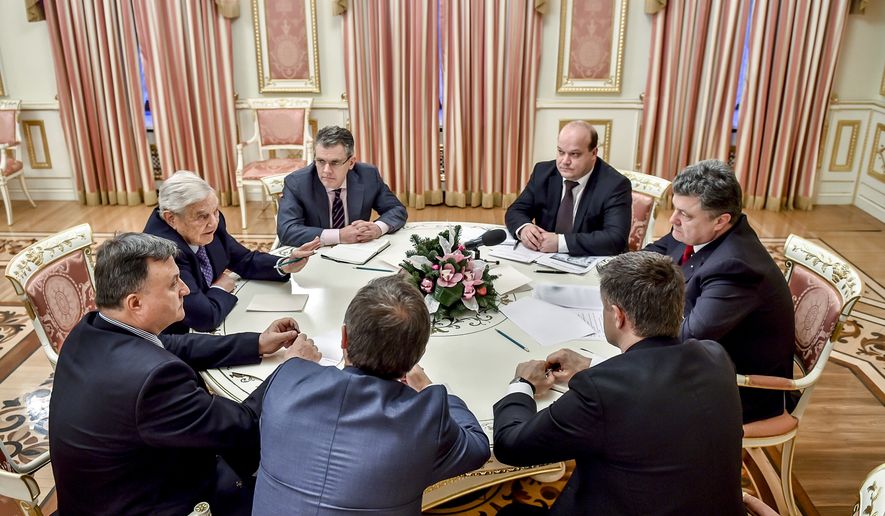 1 & 2. Giuliani's investigations into money laundering in Ukraine have got some big people very worried, including King Soros himself. // 3. Soros (left, gray hair) instructs his Ukrainian puppets --- who have since left office.

Now, we realize how stomach-turning it is to have to hear Rudy brag about his honorary Jewishness. But given how the whole Soros-Rothschild defense -- as played by their puppets at the defamatory Anti-Defamation League (ADL)-- is based upon labeling the exposers of the New World Order Crime Syndicate as "anti-Semites" ™, Giuliani's butt-kissing of The Tribe here is a stroke of strategic genius because it keeps the clueless element of Jewry pacified. Once the dreaded Anti-Semitic Card is counter-played like this, the Jewish Mobsters lose a critical layer of protection. By the way, this is the real reason why Trump goes out of his way to boast of his love for the Jews and Israel. To quote Rudy again:
"I prosecuted Italian mobsters. I prosecuted Jewish mobsters. I think I may have even prosecuted a few Martian monsters."
Perfect!
1. Headline & Image: October 11, 2018: The ADL website: "The Anti-Semitism Lurking Behind George Soros Conspiracy Theories" // 2. As a U.S. Attorney, Giuliani took down Italian mobster, John Gotti. // 3. Giuliani also prosecuted Jewish scammer, Ivan Boesky.
*
We have a special place picked out for GS.
- Q

Now, a word of caution and a word of hope about Rudy Giuliani. As Mayor of Jew York Shitty on 9/11 ™, there is absolutely no way that he does not know the truth about that false flag mass murder which the Soros Globalists and the Satanyahoo Israel Firsters, though often bitter rivals, collaborated on. It was Rudy's office which, inexplicably, ordered the "melted" and strangely twisted steel from the collapsed towers to be so rapidly removed and shipped to Asia for recycling. For his cover-up services, Rudy the Recycler was sainted by the Piranha Press as "America's Mayor" and duly awarded Slime Magazine's "Person of the Year" front cover. That appears to make him a criminal and traitor.
But what if (just speculating here) Rudy, and others like 2001 FBI Director
at the time

and current secret Trump ally Bob Mueller, were themselves trapped in a high-level power matrix from which they could neither rebel against nor escape from? Have "youse guys" ever seen the movie, Gladiator? In it, there is a character named Quintas -- head of the evil Emperor Commodus' Praetorian Guards. Throughout the film, Quintas serves and protects his cruel murderous Emperor because he has no choice. But in the film's climax, when the hero Maximus faces off with Commodus in the Gladiator pit, Quintas refuses the order of the suddenly disarmed and powerless Emperor to hand him a new sword --- shouting to his men "Sheath your swords!
Sheath your swords!" Maximus then finishes off the evil tyrant. Quintas had redeemed himself.

Is Rudy having his own "Quintas moment?" Only time will tell, and only full disclosure of 9/11 truth (which Q Anon has promised) will redeem him. Stay tuned.
1. In 2001, Mayor Rudy was puffed-up and rewarded handsomely for going along with the 9/11 scam -- but now the Piranha Press HATES him. // 2. When the evil Emperor was vulnerable, once-loyal Quintas finally felt liberated enough to be able to defy his orders. // 3. Thanks to Quintas' unexpected disobedience to Commodus, Maximus was able to kill the tyrant. Can Rudy become a "Quintas?"

Boobus Americanus 1: I read in the New York Times today that Rudy Giuliani is attacking George Soros.
Boobus Americanus 2: I'm surprised to hear that because Rudy is certainly not an anti-Semite.
St. Sugar: Your on the right track, Boobuss. I know it'ss hard for you ... but keep thinking.

Editor: I am really curious to see where this will be going in 2020.

*
COMMENTS / FEEDBACK / INSULTS / KUDOS
greattomatobubble2@gmail.com
DECEMBER / NEW-YEAR RE-ENROLLMENT PERIOD
Time to renew your subscription to...