Oh how magnanimous, how altruistic, how empathetic, how noble and how humble of two-time Pulitzer Prize winner
Nicholas Kristoff
to call out his own race of White people for not "getting it" when it comes to the related issues of race and discrimination. Agree with his argument or not, you must admit, it does take a bit of character and courage to publicly go against your own kind and admit what is right, or at least what appears to be right in one's sincerely held view.
Kristoff ain't White! He's a @#%*$@ ....
As you can see, irony is lost on Sugar the Mad Cat. Of course we know what ethnic group Mr. Kristoff belongs to (cough cough), and of course we see through his little charade of trashing the hated White (European) people which he and his light skinned Khazarian-Asian supremacist brethren have cunningly camouflaged into. Unfortunately, too many vulnerable Whites fall for his "nobody here but us White guys" routine before themselves becoming "magnanimous-altruistic-empathetic-noble-humble" -- in a self-hating guilt trip type of way.
Kristoff's column amounts to just another typical whine about how "racist" TM that Donald Trump and his followers are, and how bad "discrimination" TM against Blacks still is....blah, blah, blah. It's all so pathetically predictable and so played out that it's not even worth reviewing line by line. The only reason we selected this piece for rebuttal today is to call attention to the "we Whites" trickery that these characters always use. From Kristoff's column:
"In contrast, we whites seem curiously unwilling to shoulder any responsibility for our own part in racial inequity. If we're so concerned with "personal responsibility," shouldn't we show some?
If Donald Trump wants to make this election in part about race, then let us really talk about race problems in all their complexities. And we whites could spend less time pointing fingers and more time looking in the mirror.
"We" -- eh Kristoff? You dirty sneaky two-faced shape-shifting maggot! And for the handful of "bruthas" and "sistas" that read The Anti-New York Times, you should already know by now that this son of Satan is not your friend either!
More examples of the "We White guys" acting routine...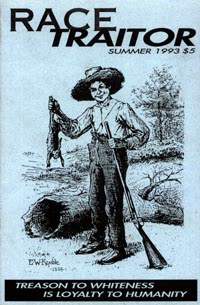 "The point is not to interpret whiteness but to abolish it."
-- Harvard professor and self-described "race traitor" Noel Ignatiev (cough, cough), author of "Race Traitor" and racetraitor.org
*

"If you want to know if racism is a problem in your country, you might not want to ask White people."

If you want to know if racism is a problem in your country, you might not want to ask white people.
Read more at: http://www.brainyquote.com/quotes/authors/t/tim_wise.html
-- Tim Wise (cough, cough), author of "White Like Me"
Looking through the prism of Kristoff's red-hot hatred for the big bad White Man, we may better understand his long forgotten libeling of an innocent scientist named Steven Hatfill, (here) whom Kristoff had falsely and maliciously accused of having mailed out the deadly "Anthrax letters" of September, 2001 -- letters which were clearly sent out by a Jew in order to false-flag frame the Arabs. The false accusation leveled by Kristoff and an malevolent activist named Barbara Rosenberg (cough cough), turned poor Hatfill's life upside down and inside out.
Beginning in mid-2002, Hatfill became the whipping boy of the Piranha Press after TV cameras showed FBI agents in biohazard suits searching his apartment. His home was repeatedly raided by the FBI, his phone was tapped, and he was kept under surveillance for more than two years. Dr. Hatfill was also fired from his job at Science Applications International Corporation -- all on the basis of the evil Rosenberg / Kristoff smear and the firestorm it kicked up.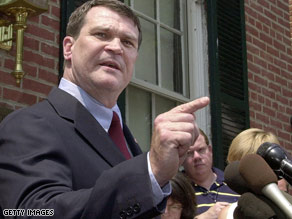 An innocent man, wrongly defamed for the Zionist anthrax letters, was put through hell by the vicious Yellow Journalism of "Pulitzer Prize winner Nicholas Kristoff.
When finally cleared of the false charges, Hatfill filed lawsuits against the periodicals and journalists who had framed him. He sued the New York Slimes and Kristoff in particular for defamation and intentional infliction of emotional distress in connection with five of Kristoff's most vicious columns. Incredibly, The Jew courts dismissed this suit, finding that Hatfill was a "public figure" -- ignoring the fact that it was Kristoff who made him a "public figure!" In 2007, Hatfill did settle a similar libel lawsuit against Vanity Fair and Reader's Digest for an undisclosed amount, after both magazines agreed to retract any implication that Hatfill was involved in the anthrax mailings.
Son of Satan Kristoff belongs in jail for what his racial hatred against Whites led him to do to Dr. Hatfill in 2002. Yet here he remains, still defaming Whites again and again and again -- while constantly and sanctimonoiusly reminding his readers of his own "whiteness."
.... Un--Freakin'--believable!
F -You too, Albert! (cough cough)
Boobus Americanus 1: I read again an op-ed column in the New York Times today by Nicholas Kristoff about thow we Whites still cannot appreciate the institutionalized racism and discrimination that America continues to inflict upon African-Americans.

Boobus Americanus 2: Indeed. The discrimination is not always easy to see from our perspective of privilege. Kristoff is very noble to take up this cause.

Sugar: You stupid @#$@!! Krisstoff ain't noble and he ain't White! He jusst wantss our kind blended out and exterminated!
Editor:
What do you mean "our kind?"
COMMENTS / FEEDBACK / INSULTS / KUDOS
greattomatobubble2@gmail.com