FRONT PAGE SWEEP
(6 attacks)
Travelers Stranded and Protests Swell Over Trump Order
Bannon Seizes a Security Role From Generals
How Trump's Rush to Enact Immigration Ban Unleashed Global Chaos
U.S. Commando Killed in Yemen in Trump's First Counterterrorism Operation
In Face of Trump's Order, Some Muslim Nations Are Conspicuously Silent
Demonstrators in Streets, and at Airports, Protest Immigration Order
NATIONAL SECTION
(10 attacks)
Lives Rewritten With the Stroke of a Pen
Demonstrators in Streets and Airports, Protest Immigration Order
Rulings on Trump's Immigration Order Are First Step on a Long Legal Path
In a Week, Trump Reshapes Decades of Perceptions About America
Trump's Immigration Order Jolts Iraqis, U.S.'s Top Allies Against ISIS
Disorder at Airports as Travelers Are Detained Without Lawyers
Christian Leaders Denounce Trump's Plan to Favor Christian Refugees
As Democrats Take to the Streets, Lawmakers Rush to Keep Up
Growing Number of GOP Lawmakers Criticize Trump's Refugee Policy
Howls Over Import Tax Complicate Plans to Overhaul Code
OP /ED SECTION
(6 attacks)
Donald Trump's Muslim Ban Is Cowardly and Dangerous
Trumpian Characters Are the Stuff of Fiction
No, Trump, Not on Our Watch
Building a Wall of Ignorance
Trump's Unfashionable Tax Idea
Allies in Combat, Now Unwanted
LETTERS SECTION
(4 attacks)
The Outcry Over Trump's Refugee Ban
The Continuing Kerfuffle Over Trump's Tax Returns
The Art of the Scam'
The Most Thankless Job: Trump's Press Secretary
LOCAL / NEW YORK
(1 attack)
Refugee Ban Endangers 'Part of American Legacy'
BUSINESS SECTION
(3 attacks)
Silicon Valley's Ambivalence Toward Trump Turns to Anger
Sean Spicer, Trump Press Secretary, Is 'Not Here to Be Someone's Buddy'
Executives' Response to Immigration Order Runs Gamut From Caution to Fury
ARTS SECTION
(1 attacks)
Visa Ban Leaves Artists in Limbo, and Institutions Perplexed
*
The Piranha Press is in a feeding frenzy.

Move over Barry Goldwater. Move over Richard Nixon. Move over David Duke. Heck, even Vlad the Bad Putin has never been hit this hard. Count em'! Thirty one hit pieces against Orange Man spread throughout all sections of the Sulzberger's Slimes. Only the Sports and Obituaries sections were spared of the slime. Be careful Orange Man, and beware the Establishment Republican'ts around you (Priebus, Pence et al.)
The only historical personages who have gotten it this bad were The Great One (that's Hitler for you newbies) and Senator Joe McCarthy. Of course, Orange Man is no Hitler, but these attacks are badges of honor. And speaking of the great McCarthy, it is as interesting as it is hopeful to note that there is only a one-degree separation between McCarthy and Orange Man -- that direct link being McCarthy's sidekick, attorney Roy Cohn. Cohn, who died of AIDS in 1986, may have been a closeted sodomite and a chosenite, but his anti-Communist credentials were as solid as they come. He defended the great Senator to the very end, and was hated by many of his fellow Tribesmen for it. Surely, Cohn must have schooled a young Orange Man on the ways of the world.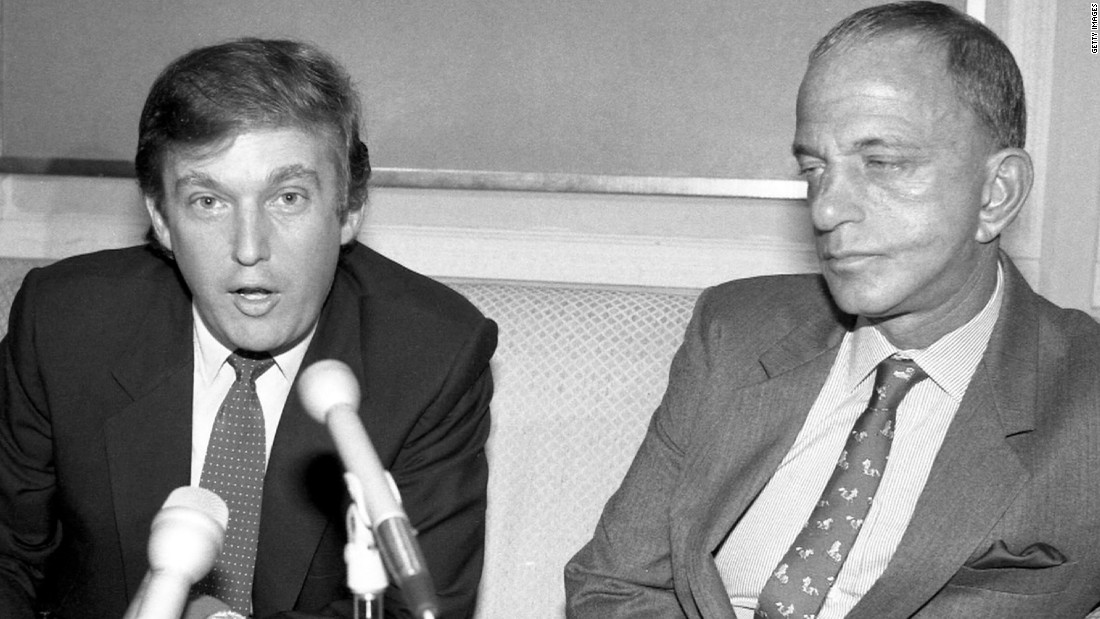 McCarthy -- Cohn -- Trump

1- The great anti-Communist Senator with his young and loyal aide, Roy Cohn.
2- Politically ruined by Eisenhower's "string pulling", McCarthy dies suddenly at the young age of 47 --- killed by the same forces attacking Orange Man.
3- Roy Cohn (an anti-communist described by POLITICO as "a Jewish anti-Semite and a homosexual homophobe" (here) was described as a "mentor" to Trump during the 1970 & 80's.
Getting back to the feeding frenzy of the Piranha Press, we have to wonder: how much longer until we start seeing anti-Trump crossword puzzle questions in the Slimes?
A 5 letter word for evil that starts with a 'T' and ends with a 'P'. Hmmm.
One would think that even the most dim-witted specimen of Boobus Americanus would start to question the objectivity of Sulzberger's Slimes because of this hate-filled spree. Right? We will add another point to Orange Man's "plus column" over this barrage, even as our worries continue to increase over the political debt he may now owe to Satanyahu's bunch of "Greater Israel" ultra-nationalists.


THE VERY NEXT DAY
NY Times (Sports): N.F.L. Transcripts Leave Out a Couple of Things: Trump and Goodell
By BENJAMIN HOFFMAN and KEN BELSON
This "too-good-to-pass-up" headline in today's Slimes really caught our eyes (made them pop out, actually!) because it related directly to a line which we had just published, in jest, only yesterday when we ridiculed Sulzberger's Slimes and its anti-Trump pieces as follows:
"Thirty one hit pieces against Orange Man spread throughout all sections of the Sulzberger's Slimes. Only the Sports and Obituaries sections were spared of the slime."
It's amazing, isn't it? We meant that line about OM being omitted from Sports & Obituaries as a wise-crack. But with today's poop-pie about the "controversy" over the New England Patriots football team's owner (Robert Kraft), head coach (Bill Belichick) and the star-player / Quarterback (Tom Brady) all being "friends of Trump" appearing in the SPORTS section, we can now say that only the Obituaries Section remains "Trump-free" -- and let's pray that it stays that way! The Slimes has truly become a caricature of itself now. Let's see what tomorrow's crossword puzzles bring!
Patriotic Patriots? Tom Brady -- Bill Belichick -- Robert Kraft --- oh, the bloody "controversy!"
Boobus Americanus 1: The New York Times was wall-to-wall with stories and editorials attacking Trump today.

Boobus Americanus 2: Trump has done nothing but stir up controversy since his inauguration.

Sugar: Wrong again Boobuss! It's the media and the rent-a-mobss that sstir up trouble.

Editor: Amazing that some people still can't see that the press, far from being an honest referee, is actually part of the crooked game.

*
COMMENTS / FEEDBACK / INSULTS / KUDOS
greattomatobubble2@gmail.com