It's that time of the year again -- the holy day of September 11 during which Boobus Americanus is commanded to bow his empty head in solemn patriotic reverence and dutifully commemorate the most colossal magic trick ever played on the world since the Holohoax. This date is particularly piognant (a $10 word for evoking a feeling of sadness) for both the Mrs. and me. Sherrie lost a friend who worked blocks away from "Ground Zero, and yours truly lost a childhood friend -- though we had lost touch about 10 years prior -- who worked in the World Trade Center. The interesting thing about Sherrie's lost friend is that she doesn't show up on the list of dead -- which suggests that the deaths of many passersby who worked in the area and died that day went unrecorded.
The most frustrating part of the tragedy is that, unless and until it is widely exposed and the "perps" duly punished (executed publicly) these memorials mean nothing. Worse than that, the continued propagation of that moronic mendacity, that felonious fairy tale, that loony libel which maintains that "Osama Bin Laden" ™ and his band of "19 Arab hijackers" ™ -- using TWO airplanes to turn THREE mountainous skyscrapers into instant powder and aerosol -- actually disrespects the dead. The thousands of people killed that day -- and the hundreds of thousands (maybe a million?) killed, directly or indirectly, in the phony "War on Terror" and "Arab Spring" which, by design, grew out of those the false flag attacks -- deserve more than stupid bell ringing and platitudinous "thoughts and prayers ™." What the dead and still dying (first responder cancers) deserve is not the Orwellian group worship of a fairy tale, but rather -- the TRUTH about who mass murdered them, namely, the Globo-Zionist Axis of Evil -- with each wing of those overlapping crime syndicates having its own agenda.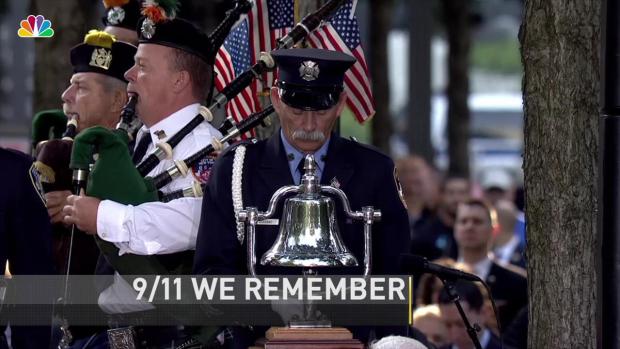 1. Bag-piping, cheesy speeches and bell ringing does nothing to avenge the dead and dying. // 2 & 3. Man made mountains instantly transformed into powder and aerosol by "suicide hijackers" who trained on crop-dusters and video games??? Who the frickety-frack STILL believes in this bullshit? Answer: About 85% of Americans, that's who!

"THEY" TOLD THEIR OWN IT WAS COMING!
The PRC (Predatory Ruling Class) all read certain papers and publications which, although available to us lowly plebes and proles, are generally only read by those "in the know." It is through such sources that the high & mighty "muckety mucks" of politics, academia and media wink and nod at each other in coded language. It's what you might paradoxically call an "open conspiracy." Indeed, the noted Fabian Socialist and admitted One Worlder H.G. Wells, wrote a book about the Globalist vision in 1928 -- its title: "The Open Conspiracy."
Let us review three such obvious cases of this undeniable "wink-wink" telegraphing among "elites."
1998 / Zbigniew Brzezinski
Globalist big-shot Zbigniew Brzezinski publishes "The Grand Chessboard", in which he argues that America must dominate Central Asia. Like the boys at PNAC, Z-Big also believes it will take a "truly massive threat" to convince the American public to go along with his scheme:
"America may find it difficult to fashion consensus on foreign policy, except in the circumstance of a truly massive external threat."
He further adds:
"The attitude of the American public toward the projection of power has been ambivalent. The public supported America's engagement in World War II because of the shock effect of the Japanese attack on Pearl Harbor."
Z-Big gave a wink-wink about "Pearl Harbor."

1998 / The Council on Foreign Relations
Following the 1998 embassy bombing in Africa (falsely blamed on Osama Bin Laden) Ashton Carter (future Defense Secretary under Obongo), John Deutch (ex-CIA Director), and Philip D. Zelikow (future Director of 9/11 Commission cover-up) co authored an article in the Council on Foreign Relations's (CFR) magazine, Foreign Affairs. The article is entitled: Catastrophic Terrorism -- subtitled, "Imagining the Transformative Event"
Again, the spectre of Pearl Harbor is invoked:
"Like Pearl Harbor, this event would divide our past and future into a before and after."
Zelikow - Carter - Duetch // They too gave a wink-wink about "Pearl Harbor."
The Neo-Cons of Project for the New American Century (PNAC)
The warmongering 'Neo-Cons' of PNAC published a paper calling for the U.S. to dominate the Middle East and expand its military reach and budget. Lamenting the political difficulty of achieving these goals, they wrote:
"..the process of transformation is likely to be a long one, absent some catastrophic and catalyzing event –like a New Pearl Harbor."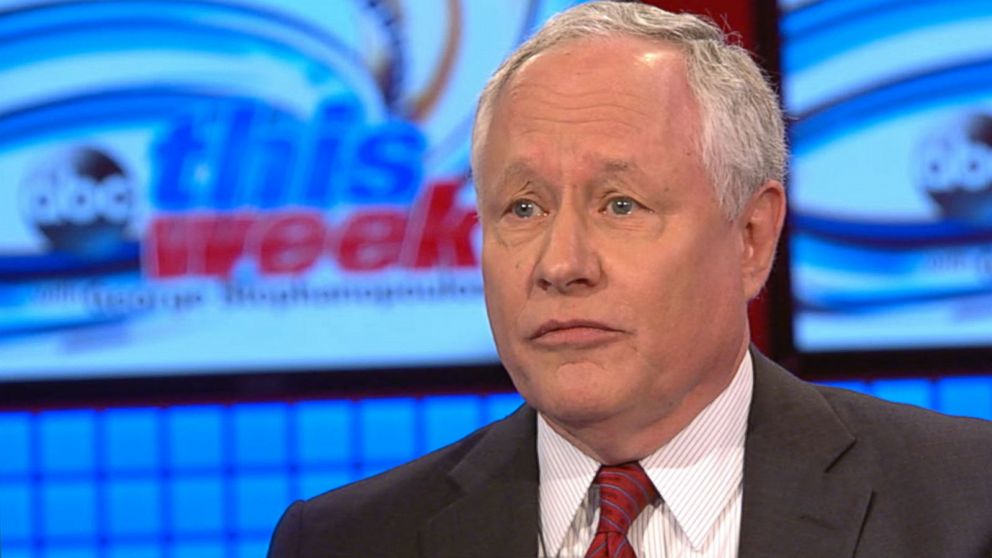 The Kagan-Nuland Family and Bill Kristol of PNAC.... more wink wink about "Pearl Harbor."

In addition to these "just amongst our crowd" clues of a coming "Pearl Harbor" were the demonic "in your face" hints dropped in so many movies and TV shows aired years in advance. As a matter of fact, the blockbuster film event of Summer 2001 was "Pearl Harbor" -- starring Hollywierd A-Listers Josh Hartnett, Kate Beckinsale and Ben Affleck. How conveeenient!
Just three months before the attack, "Pearl Harbor" had become the most hyped-up film of Summer 2001.
Then of course there is the "official story" of the event itself which, were it not so tragic, would be the stuff of side-splitting laughter. There were the "Arab passports" with burnt edges suddenly found at the crash sites; Korans and "suicide notes" left in baggage which never made it onto the planes; melted cars and trucks parked blocks away from the Twin Towers; steel beams weighing many tons hurled laterally and embedding themselves in buildings 500 feet away; a Bin Laden "confession video" miraculously turning up in Afghanistan; a hole the size of a car said to be the entry point of a 767 airliner at the Pentagon crash site; and on and on and on the barrage of blithering bullshit spewed -- all of it eagerly gobbled up by a traumatized public hungry for revenge on the big bad Muslims. And let us "never forget" that small army of highly suspicious Israeli operatives arrested before 9/11, on 9/11, and just after the 9/11 attacks.
Yes, for we who see, this day is a tough one to have to endure -- all the more so because so many of us have alienated friends and family members over this event. May the day come when we who have been so ridiculed (and even hated) for daring to see the truth of 9/11 are finally vindicated --and the many who died because of the trick are finally avenged.
1. Hijacker "suspects" later discovered "alive and well." Their passports had been stolen by Mossad // 2. The Pentagon crash site -- no plane and a perfect undamaged lawn. // 3. "Building 7" in New York -- a 600-foot shyscraper, not even struck by a plane, collapses perfectly into its own footprint on the afternoon of 9/11.
*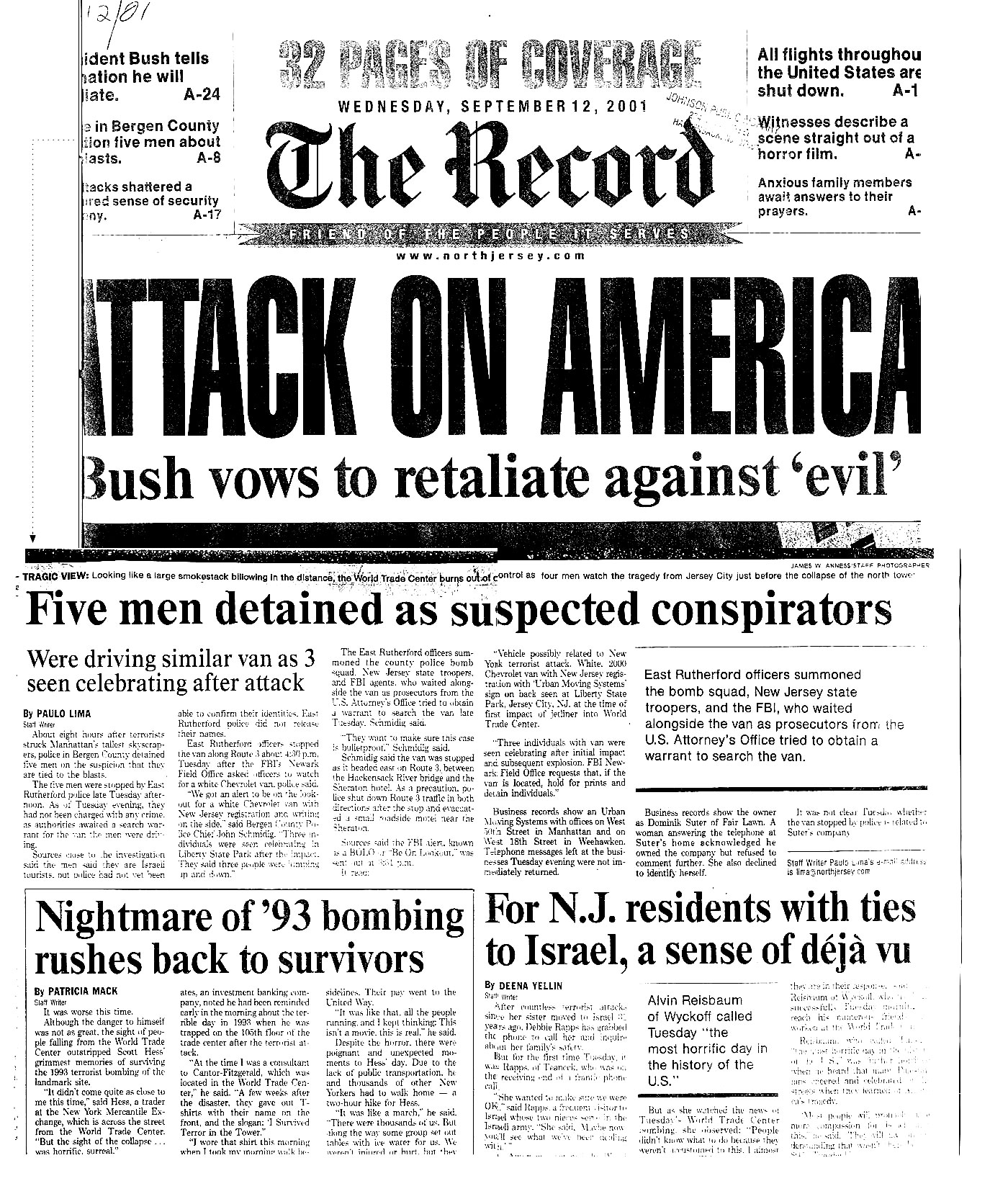 "Never Forget" that the only suspects arrested on 9/11/2001 were five Israeli agents in white vans carrying explosives. They were later dubbed "The Dancing Israelis" because they had been seen celebrating at the time of the attacks.

*
Boobus Americanus 1: It's hard to believe that it's been 18 years since Bin Laden attacked us on 9/11.
Boobus Americanus 2: Wow. The babies born that year aare now old enough to vote.
Editor: And they were all taught in school to parrot the official fairy tale. Crazy world we live in.

COMMENTS / FEEDBACK / INSULTS / KUDOS
E-mail: GreatTomatoBubble2@gmail.com