Available in pdf, paperback and Kindle

NAPOLEON vs THE OLD AND NEW WORLD ORDERS!

The REAL story of Napoleon that you were never taught!

By M S King

.
"What is history but fables agreed upon?"
- Napoleon Bonaparte
.
We all know the story about Napoleon Bonaparte. The one about how "The Good Guys" banded together to stop the egomaniacal tyrant with "short man's inferiority complex" from enslaving the European continent.
.
There is just one problem with this official version of the giant historical figure of the early 19th century.
. .
It's a LIE!
.
Are you ready to know the TRUTH about what really happened? Hint: The Rothschilds hated Napoleon.

.
.
85 pages -- packed with 200+ story-enhancing images!
.
Napoleon vs The Old & New World Orders is a

photo-journalistic "blurb-by-blurb", to-the-point concise chronology

presented in that same easy-to-digest and engrossing style that Mike King is known for.
.
Like the true story of Hitler and World War II, the story of Napoleon is also a candidate for "the greatest story never told."
.
Napoleone Bounaparte is born on August 15, 1769 to an aristocratic family from the Italian island of Corsica (French jurisdiction). He is raised Catholic, but will become a Deist in his adult life (believer in God as The Creator).
.
At the age of 10, he is enrolled in a religious school in France, where he adopts a French version of his Italian name. Hence forward, he will be known as Napoleon Bonaparte. After distinguishing himself in mathematics, Napoleon is later admitted to an elite military academy in Paris, where he trains to become an artillery officer. Napoleon graduates, at the age of 16, in 1785.
Contrary to popular belief (initiated by the British Press and later exploited by Jewish psychologist Alfred Adler in 1908) Napoleon does not have "short man's inferiority complex." His adult height of 5' 7" is actually the average male height for the early 1800's. He will select tall men as his bodyguards, which gives some the false impression that Napoleon is short in stature.
Teen-age Napoleon from Corsica already demonstrated star quality.
DECEMBER 1800: JACOBINS NEARLY KILL NAPOLEON
Two months after their 'Daggers Plot' to kill Napoleon had been foiled, Rothschild's Jacobins (forerunners of Communists) nearly succeed in blowing up Napoleon's carriage with a massive bomb (Plot of the Rue Saint-Nicaise or "The Infernal Machine"). Napoleon and Josephine (who faints) both survive the deadly Christmas Eve blast, but 10-12 innocent bystanders are killed, and dozens more injured or maimed.
Napoleon uses public outrage over the bombing to annihilate the last remnants of the violent Red Jacobins. Even though the Jacobins themselves had openly called upon their followers to kill Napoleon, many modern day Red-loving historians falsely attribute the bomb plot to French Royalists.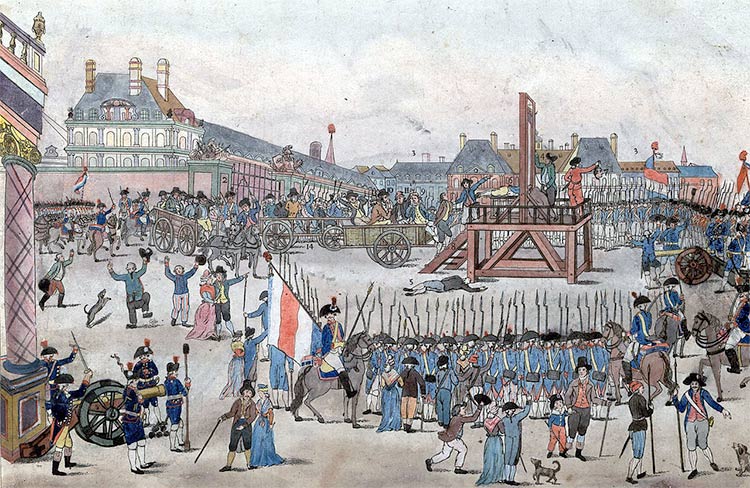 1. The Red Jacobins carried out the "reign of Terror" which beheaded so many innocent people during the French Revolution. After Napoleon came to power and restored order and civility, the Reds turned against him. 2. The powerful Jacobin-Communist bomb that nearly killed Napoleon came to be known as "The Infernal Machine"
That's all you're getting...for now! For more, visit the Amazon Page.

.
Learn more about this remarkable giant of the early 19th Century who fell victim to the British-Rothschild Axis. Order "Napoleon vs The Old and New World Orders" today.
For a fee of $6.95, we will E-mail you a link to a secret webpage containing Napoleon vs The Old & New World Orders along with a convenient downloadable pdf version that you may print out.
FREE PAGES / PAPERBACK / KINDLE:

(Click on cover image to go to author page of M S King at Amazon)

TO PURCHASE

PDF VERSION

- $6.95 - SAFE & SECURE VIA PAYPAL / CREDIT CARD,

Click on Credit Card icon

You will receive pdf access via E-mail within 2-4 business hours.
TO PURCHASE

PDF VERSION

WITH CASH, CHECK OR MONEY ORDER BY MAIL

Send $6.95 to Address listed at right.

. Be sure to include a note with your E-mail address clearly printed.

Payable & Mailable to:

PSCALE PUBLICATIONS

PO Box 804

Saddle Brook, NJ 07663
COMMENTS / FEEDBACK / INSULTS / KUDOS
greattomatobubble2@gmail.com
'I don't believe in conspiracy theories! Go away!"

FREE REPORT & FREE UPDATES!

'How To Respond To An Anti-Conspiracy Theorist'

Never again be at a loss for words when some ignoramus tells you:

"Aw that's just a Conspiracy Theory." .

.

No self respecting 'conspiracy theorist' should be without this essential BLOCKBUSTER REPORT!

SIGN UP now and receive a link to the FREE report plus periodic FREE summaries of Historical & Current Events.


Be sure to

CHECK YOUR JUNK / SPAM BOX

in case report doesn't go through.

Submit form below

Questions? E-mail us: greattomatobubble2@gmail.com