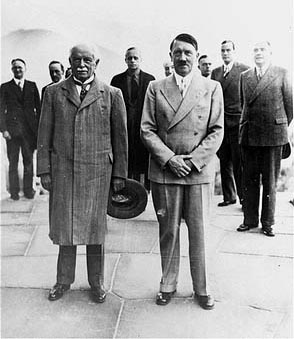 David Lloyd George with Hitler

"

There is for the first time since the war a general sense of security. The people are more cheerful. There is a greater sense of general gaiety of spirit throughout the land. ....
.One man has accomplished this miracle. He is a born leader of men.

A magnetic, dynamic personality with a single-minded purpose, a resolute will and a dauntless heart.
He is also securing them against that constant dread of starvation, which is one of the poignant memories of the last years of the War and the first years of the Peace. Over 700,000 died of sheer hunger in those dark years.
The fact that Hitler has rescued his country from the fear of a repetition of that period of despair, penury and humiliation has given him unchallenged authority in modern Germany.
As to his popularity, especially among the youth of Germany, there can be no manner of doubt. The old trust him; the young idolise him. It is not the admiration accorded to a popular Leader. It is the worship of a national hero who has saved his country from utter despondency and degradation.
David Lloyd George / Ex UK Prime Minister / 1937