During a recent ice-cream outing in the quaint downtown section of Montclair, NJ, I chanced upon a scenic little park called Edgemont Memorial Park. Evidently, the "Memorial" portion of the park's name comes from the towering World War I Memorial that stands as its centerpiece. As a history addict, I was drawn to the 1924 memorial which connects to the rest of the park by a land bridge over a pond.
A chance ice-cream outing turns into an anti-Zionist history lesson. "Dammit Mike, is that all you ever think about?"

The names of the dead sons of Montclair are etched into the sides of the obelisk, about 30 in all. Of course, the first thought to pop into my mind, and to stir my righteous wrath, was: "What a damn shame! All those young lives wasted, in large part so that the Zionists could gain an immigration foothold in Palestine."
(True story! Google-YouTube Benjamin Freedman Speaks)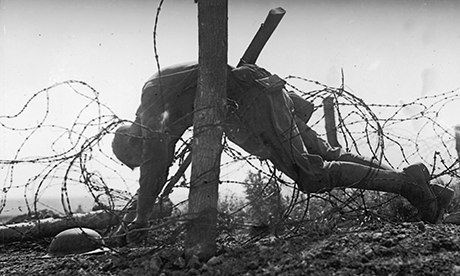 By sending American boys to die in World War I, the Zionist puppet Wilson enabled the British to divert southward and take Palestine away from Turkey. That was the British payoff to the Zionists for getting America into the war that they were losing. The unfortunate American soldier at right died a horrible death while tangled in barbed wire.

After reading the mostly Anglo and Irish surnames that were etched into eternity, I glanced about the stone base of the monument and beheld a series of etchings; some of them of patriotic or national symbols, others religious, and some others seemed masonic. Then, lo and behold, what do I see to really make my Irish-Italian blood boil and nearly vomit up my ice-cream sundae? None other than a Jewish Star of David. Talk about adding insult to injury! Imagine, all those dead boys listed on the obelisk (plus 90,000 more nationide!), and the perps behind the tragedy having the gall to stamp the alien death star on their handiwork.
But what really caught my eye was what was etched inside of the Star - the number '6'. Hmmmm. Having never seen this symbol before, I rushed back to the car in order to grab my phone and snap the pictures you see posted on this page.
The "Conspiracy Theorists" are correct, it seems. The number '6' must have some important meaning to Jewish mystics (6 pointed star with 6 sides and 6 total triangles). Keep in mind that this monument was completed 21 years before we learned, from Joe Stalin and the Jewish owned New York Times, that 6 million Jews were 'holocausted' (cough, cough) by the Big Bad Hitler.
From World War I?

I tried to find a similar image of a '6' inside of a Star of David on the Internet, and came to learn about that the red Star of David represented the "6th Infantry" division of America's World War I force. Why would the overwhelmingly Christian US military use such a symbol? When we consider who it was that the 'Great War' was actually fought on behalf of, Jewish Reds and Zionists, it all makes perfect sense.

BECOME A SUSTAINING DONOR AND GET TOTAL ACCESS TO THIS SITE!
Napoleon vs the Old & New World Orders (36 pages / 69 illustrations)
The Talented Mr. Putin (100 pages / 150 illustrations)
Hitler visits Oprah (120 pages / 200 illustrations)
NWO Forbidden History (1763-2013) (256 pages / 500 illustrations)
The Bad War (115 pages / 230 illustrations

The 100 Year Murder! - 37 Nails in the Coffin of the USA (35 pages / 67 illustrations)
President Psycho (25 pages / 46 illustrations)
The Anti-New York Times (1-2 Daily rebuttal articles E-mail to you)

Just Released!

HITLER

visits

OPRAH
| | |
| --- | --- |
| | TIP THE WRITER & RECIEVE PDF BOOKS |
'I don't believe in conspiracy theories! Go away!"

FREE REPORT & FREE UPDATES!

'How To Respond To An Anti Conspiracy Theorist'

Never again be at a loss for words when some ignoramus tells you: "Aw that's just a Conspiracy Theory." .

.

No self respecting 'conspiracy theorist' should be without this essential BLOCKBUSTER REPORT!

SIGN UP now and receive a link to the FREE report plus periodic FREE summaries of Historical & Current Events.


Be sure to

CHECK YOUR JUNK / SPAM BOX

in case report doesn't go through.

Submit form below