TomatoBubble.com: Western court-historians and other assorted ignoramuses have always portrayed the attempted assassination of Adolf Hitler as a noble effort among German Officers to save Germany from "Hitler's madness". The plotters, as the goof-ball narrative goes, viewed the regime as "evil"; and, with the tide of war turning, were finally in a position to remove the tyrant Hitler. Hollywood even produced a movie with this theme, so it must be true; right? (rolling eyes)

Though it is certainly true that at least some of the naive plotters were under the delusion that the death of Hitler would lead to a peaceful settlement with America and Britain, treasonous plots against Hitler had existed since 1938; the plotters generally being old school, elitist military conservatives who always resented 'Lance Corporal' Hitler's merit-based populist ideology and anti-classism. According to a 1940 report issued by the German Foreign Ministry, some of these plots were aided by western spy agencies.
Hitler preferred the company of his adoring rank and file soldiers to that of some of his snobby Generals.
It is hard to say which of the plotters were western-friendly traitors, which were motivated solely by a desire to save their own skin, and which truly believed that a just peace with Churchill and FDR (which would have allowed Germany to focus on fighting the Soviet Union) was actually possible. We suspect that several motives were at play. For the sake of argument, let us assume that most of the coup plotters had honorable intentions, as was likely the case with General Erwin Rommel; and limit ourselves only to addressing the delusion that Hitler's death would have spared Germany from the coming post-war horrors of 1945-1949.
But first, a review of the amazing 1944 event is in order.
THE JULY 20 PLOT
One month after the the successful Allied invasion of Normandy, as Stalin's Red Army moves westward, the tide of war is clearly turning against Germany. Barring a stunning counter-offensive in the West, which will nearly succeed during the coming December, (Battle of the Bulge) Hitler's days seem numbered. The coup-plotters believe that the time to kill Hitler and make a deal is 'now or never'.

Operation Valkyrie is a World War II emergency 'continuity of government' plan issued to the Reserve Army of Germany to implement in case of a breakdown in civil order caused by the Allied bombing of German cities. German Generals Friedrich Olbricht and Henning von Tresckow, and Colonel Claus von Stauffenberg (Tom Cruise) modified the plan with the intention of using it to take control of Germany, disarm the SS, and arrest the State leadership once Hitler had been assassinated. Hitler's death (as opposed to his arrest) was required to free German soldiers from their oath of loyalty to him.
von Stauffenberg - Olbricht - von Tresckow
As the war situation deteriorates, Hitler no longer appears in public and rarely visits Berlin. He spends most of his time at his headquarters at the 'Wolfsschanze' (Wolf's Lair) in East Prussia, always heavily guarded and rarely seeing people he does not trust. Waffen SS Leader Heinrich Himmler and the Gestapo grow increasingly suspicious of plots against Hitler, and rightly suspect the officers of the General Staff, the source of previous conspiracies against Hitler and probably some of the post D-Day military "blunders" which facilitated the Allied advance from the West.
Their aim is to continue the war with Stalin, but to make peace with the U.S. & U. K.. The conspirators score a major coup in early July when they recruit Erwin Rommel, the famed "Desert Fox", into their ranks. Rommel is the most popular officer in Germany and first active-duty Field Marshal to lend support to the plot. After lengthy preparation, the plot is activated in 1944.
General Rommel was a master of military straegy, but evidently a novice when it came to geo-politics.
The key role in the plot's implementation is to be played by Stauffenberg. Stauffenberg's position as Chief of the Reserve Army gives him access to Hitler for reports. Stauffenberg will carry out both the assassination attempt and the Valkyrie coup operation. After two abortive attempts, Stauffenberg places a briefcase bomb under a table near near Hitler during a July 20 conference at the Wolf's Lair. After a few minutes, he receives a pre-arranged telephone call and leaves the meeting. When the bomb detonates, the conference room is demolished, killing three officers and a non-combatant stenographer, which does not speak too well of Stauffenberg's "honor".
Hitler survives with a perforated eardrum.
1- The bombed-out conference room 2- Hitler's torn and singed pants 3- Hitler visits one of his injured Generals in the hospital
Believing that Hitler is dead, Stauffenberg hurries back to Berlin to assume his pivotal role in the 'continuity of government' coup. Meanwhile, conspirator Carl-Heinrich von Stülpnagel, military governor of occupied France, disarms the local SS and captures most of their leadership. He then travels to the headquarters of General Günther von Kluge and asks him to contact the Allies, only to be informed that Hitler is still alive.
By this time Himmler has taken charge of the situation and issued orders countermanding the mobilisation of Operation Valkyrie. In many places the coup is going ahead, led by officers who believe that Hitler is dead. Berlin Commandant, and conspirator, General Paul von Hase even tries to arrest Propaganda Minister Joseph Goebbels. In Vienna, Prague, and many other places, troops occupy NS Party offices and arrest SS officers.
The coup fails and the conspiracy unravels. Some of the plotters commit suicide. Others, including Stauffenberg, are rounded up and executed by firing squad. Later on, when it is discovered that General Rommel had given his blessing to the coup, the popular general is granted the privilege of swallowing poison, thus dying of "natural causes".
WHY THE PLOTTERS WERE FOOLS (or worse!)
Again, just for argument, let us assume that the plotters were not self-serving scoundrels out to position themselves for a decent life in the coming post-war Germany. The fact remains that the conspirators were incredibly naive to think that Churchill and especially the commie-pinko FDR would ever deny their Soviet "Uncle Joe" of the pleasure of taking, and raping, Berlin and Eastern Germany. The"Cold War" fallout with Stalin only came a few years after the war ended, when Stalin disappointed the Globalists by turning nationalist and keeping eastern Europe in the Soviet sphere instead of making the region part of the "Family of Nations". But in July of 1944, Stalin was very much a full and trusted partner of FDR's gang.
Even if the plotting fools had already forgotten how Germany, in 1918, based on Woodrow Wilson's empty promises of "peace without victory", was tricked into laying down its arms and then accepting the brutal rape of the Treaty of Versailles; a basic reading of American newspapers and magazines would have confirmed that a negotiated surrender would never have been acceptable to the Jewish-led Allies. Furthermore, it was made clear that Stalin was going to have his way in the east, no matter what! Have a look:
From 1941, 4 months before the U.S. even entered the war:
"Pact Provides Priority to Moscow's Orders"
From 1942, Time Magazine Man of the Year story about Stalin:
"There is also a story in high places that, in keeping with the 'tough guy' tradition, credits Stalin with one other desire: permission from the allies to raze Berlin, as a lesson in psychology to the Germans and as a burnt offering to his own heroic people."
From the front page of 1943 New York Times 1942, FDR aims for "unconditional surrender".
And there are so many other similar public admissions that it's not even necessary to explore the private correspondence of FDR, Churchill and Stalin; such as that very telling excerpt from a 1944 letter that Churchill wrote to the mass-murdering Bolshevik Stalin. In it, the degenerate cigar-chomping drunk reassures Stalin that Britain will never make a separate peace with Germany:

"We never thought of peace, not even in that year when we were completely isolated and could have made peace without serious detriment to the British Empire, and extensively at your cost. Why should we think of it now, when victory approaches for the three of us?"
Reference: Walendy, Udo, The Methods of Reeducation, 3.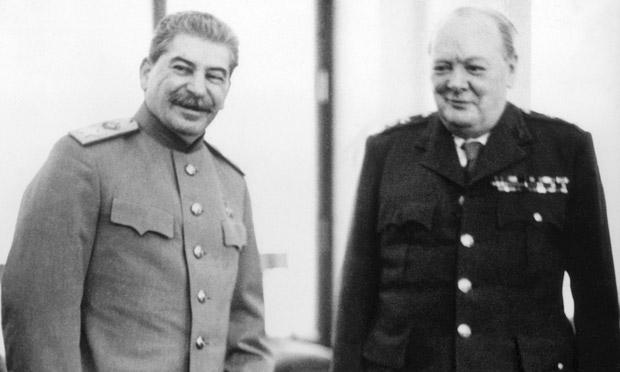 Churchill and FDR were very chummy with the great mass murderer Joseph Stalin; who worried needlessly that German peace offers might be accepted by his Western Allies.
Had Stauffenberg and friends succeeded in killing Hitler, the result would have been an internal civil war to go along with the bloody Soviet invasion of eastern Germany that would still have come anyway, only sooner. And just for the record, the occupying western Allies ended up inflicting a Soviet-lite form of oppression in western Germany, which, in many ways, continues to this very day. A successful assassination would have changed nothing!
This is exactly what Hitler foresaw; but the plotters did not, and the court-historians will not -- even in hindsight.