The Globalist-Zionist crime syndicate have a problem -- namely, how to get around the "pacifism clause" of the Japanese Constitution (imposed upon bombed-out Japan by the U.S.A. after World War II) so that Japan can be rearmed and played off against disobedient China and that "nuclear proliferating" supplier of Iran and Syria, North Korea.
Puppet Vietnam and Puppet Philippines have already been beefed up by the U.S. -- but heavily industrialized Japan can really bring some added firepower to the table. If only that annoying little clause could be circumvented. If only. What to do? What to do?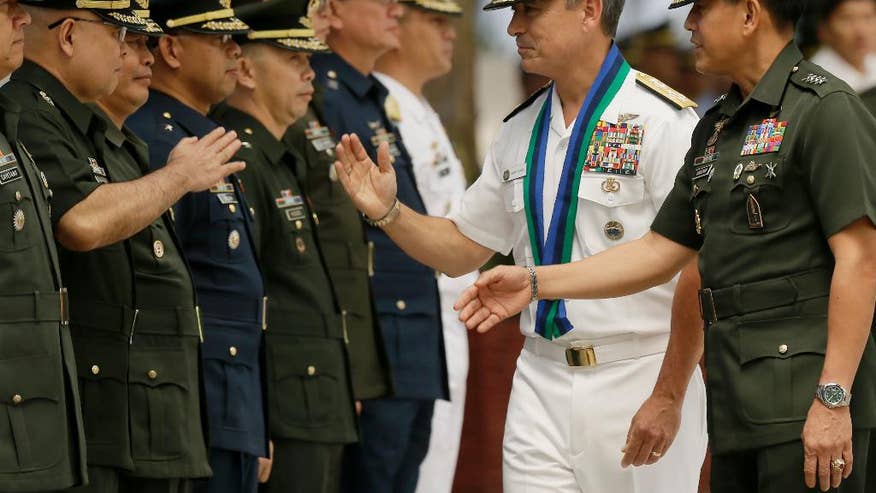 While the Pentagon uses Vietnam and Philippines to encircle China ...
*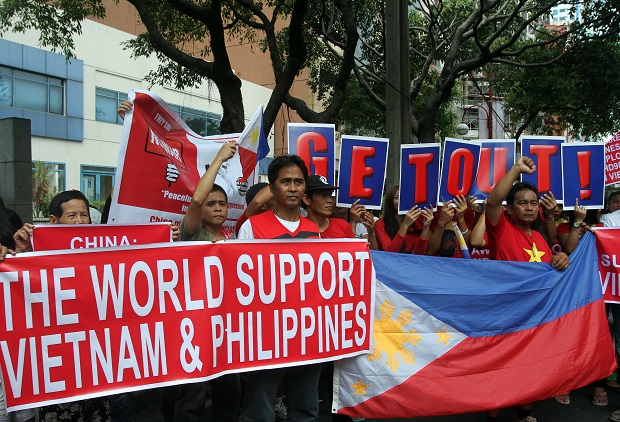 The CIA stirs up the student dupe and patriotard flash mobs of those two puppet states.
Japan, like Germany, has been an occupied puppet-state since 1945. Nonetheless, given the realities of domestic guilt-induced politics, getting Japan to rebuild and redeploy its military will require some sort of "crisis". Prime Minister Sinzo Abe needs some serious protective cover to pull off such a controversial end-run around the Pacifism Clause. This is a job for 'Jihadi John' -- the notorious "beheader" of ISIS, ISIL, IS, Daesh, whatever they call themselves -- and JJ's accomplice, SITE, a 'media service' run by the Israeli, Rita Katz.
In September, 2014, Japan announces a measly $22 million in aid to Iraq. This move serves as the perfect cover story to explain why ISIS would suddenly target Japan for "interfering". Right on cue, just weeks later, two Japanese nationals are kidnapped, held for $200 million ransom, and eventually "beheaded" by the mythical masked man in the black pajamas.
1- Obvious fake photo! Kenji Goto has a shadow on the right side of his face. Haruna Yukawa has a shadow on the left side of his face.
2- Notice the SITE logo -- an Israeli run 'media' operation (here).
3- Kenji is "beheaded" by 'Jihadi John' -- (Excuse me --- ha ha ha ha ha ha ha ha ha!)

After the hostage drama has played out, news of the "murders" is hyped up by CIA-controlled media in Japan as CIA "flash mobs" with professionally made English-language banners take to the streets. Like the sheeple of America, most of the sheeple of Japan fall for the scam -- hook, line and sushi.
*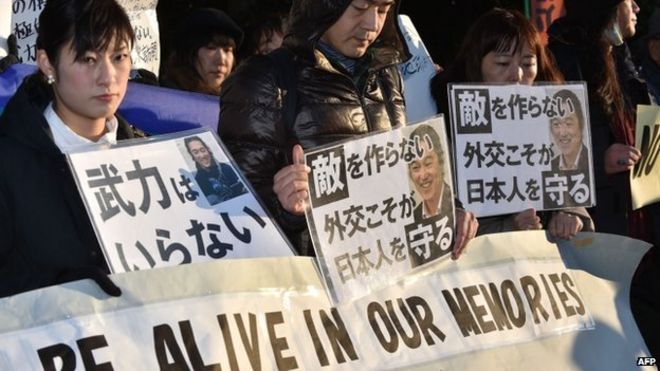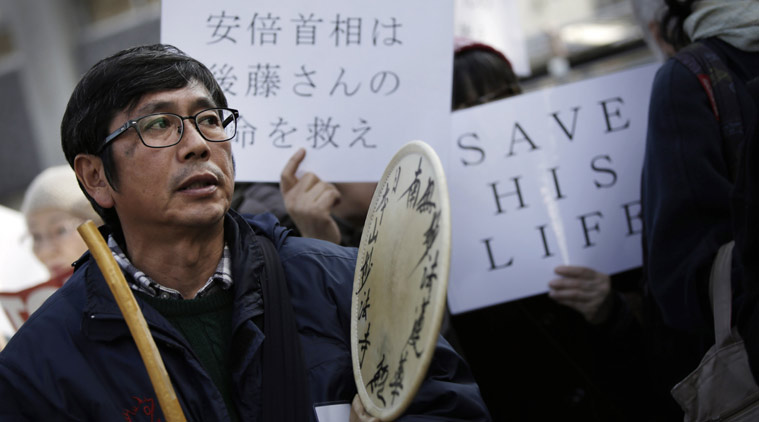 CIA Flash-Media and CIA Flash-Mobs sold the scam and enabled Abe Shinzo to make his move.
But there is much more to this play action that just the phony beheadings. To push the re-armament effort forward, Abe and Junko Ishido, a crisis actor purporting to be "the mother of Kenji Goto" put on a series of dry-eyed-fake-crying performances to rival the cast of characters of the Sandy Hook School non-shooting and weeping Obongo himself.
Enjoy the show:
And the Japanese nominee for 'Best Actor' in a false-flag drama is: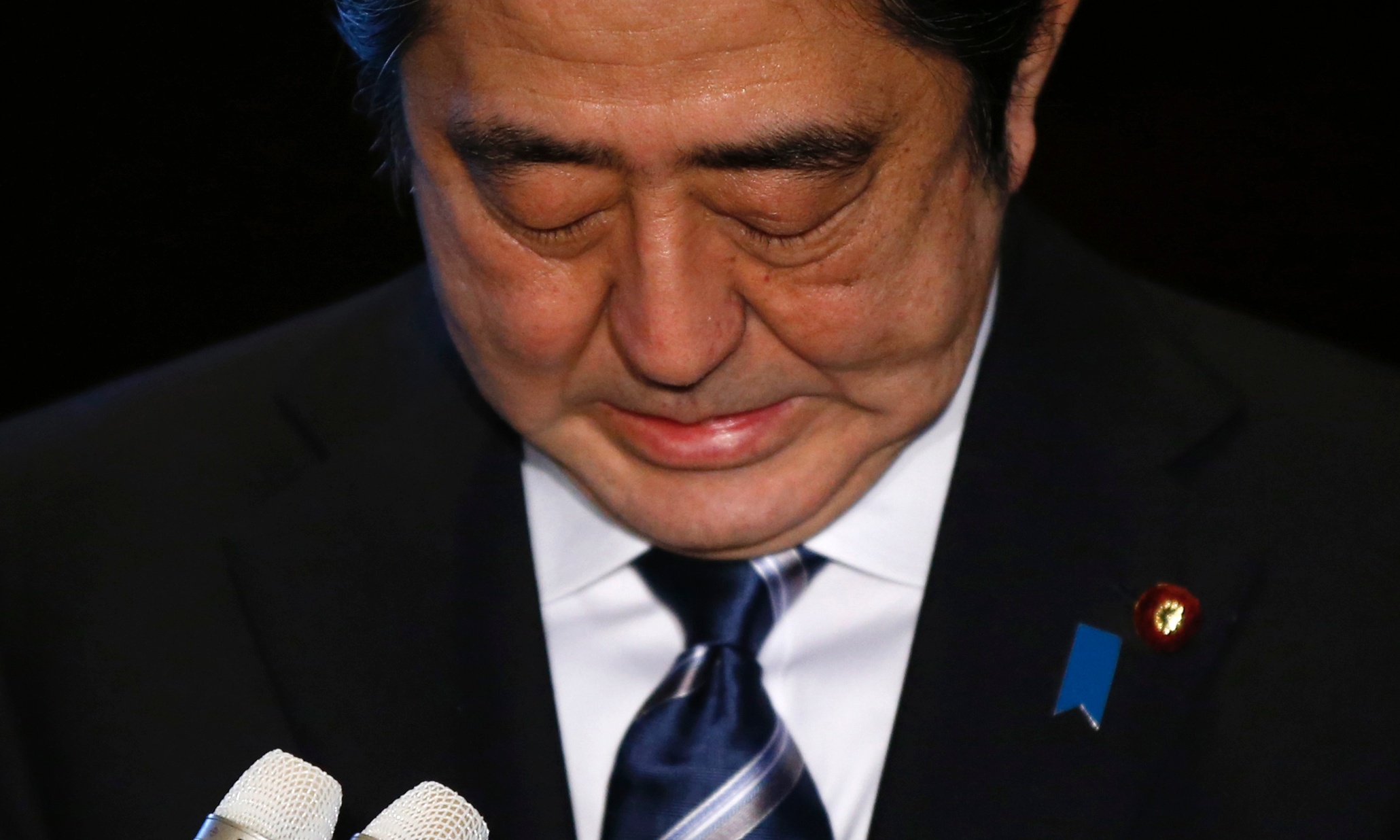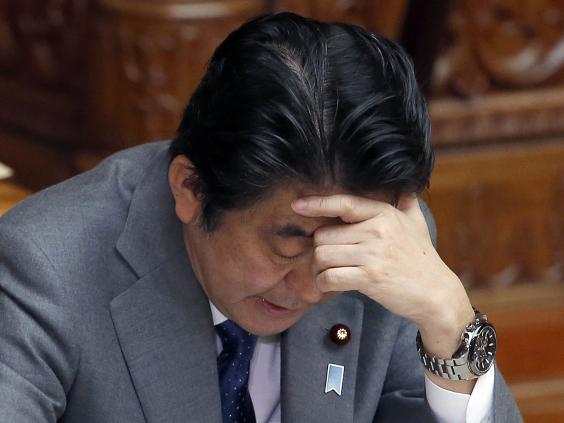 Notice the different suits and ties -- which shows that these crying spells took place on different days. The lapel ribbon is to honor the hostages.
*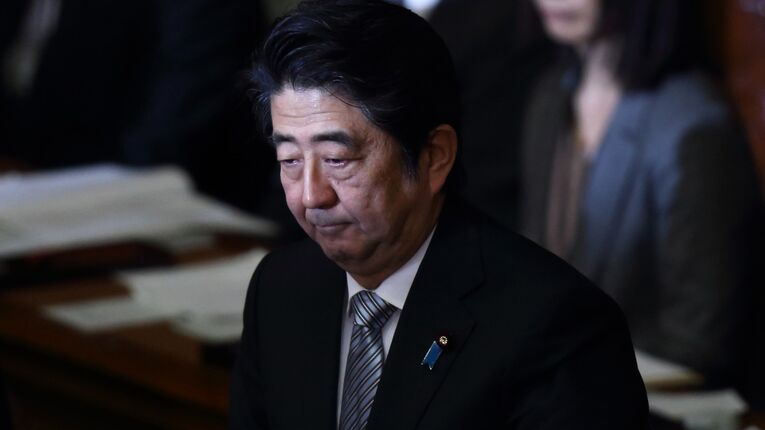 Abe -- you poor man. Oh the suffering!
And the Japanese nominee for 'Best Supporting Actress' in a false-flag drama is: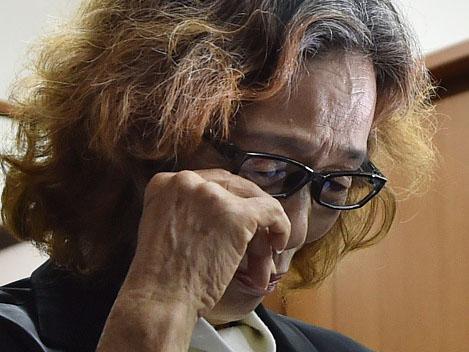 Again, note the different outfits, indicating that this was a multi-day fake-fest.

*
"Please save my son, Mr. Abe"
Media darling, Junko Ishido, while telling Shinzo Abe that he has a "kind face", issues a tearful (actually, tearless) plea for Abe to "take action" -- and that's exactly what Abe and his criminal gang are doing. But the "action" is about using the "beheadings" to build the political momentum necessary to work around the Pacifist Clause. The scheme has worked! Yes, it's official. Japan, after 70 years, with full U.S. blessing, is rearming itself (here) -- and it ain't about fighting "ISIS" or preventing future hostage-taking, we can assure you!
This move is not only welcomed by the Globalists, but also by their Zionist sometimes-rivals and sometimes-co-conspirators. It was China and Russia that have not only blocked the Zionist overthrow on Syria and Iran, but are now actively building up Iran's economic and military strength.
As for North Korea, Israel's hatred for that fiercely independent state stems from its technology sharing with Syria and Iran. Read "Israel's Secret War on North Korea" by yours truly (here). Could these be the reasons for Bibi Satanyahu's sudden love for Japan? You know bloody damn well they are! -- A few recent headlines:

1 & 2: With China and North Korea in his cross-hairs, Bibi Satanyahoo has taken Israeli-Japanese relations to a whole new level.
3: Shinzo dons a brown yarmulke and drops a note inside the Wailing Wall. Oy vey!

*

There is no doubt. The usual suspects, from the same Mafia which brought us World War I, World War II, The Iraq War, and so many other disasters, are setting up the chess pieces for World War III. Let us hope that Abe is only pretending to play along with the charade in order to protect Japan from future tsunamis and nuclear power-plant attacks -- because if the anti-China / anti-North Korea, Vietnam-Philippines-Australia-South Korea-Japan Axis allows itself to be maneuvered into war for both Globalism and Zionism, those nations will be the first to suffer massive casualties.
Oh, if only 'Jihadi John' had not "beheaded" poor Mr. Kenji and poor Mr. Yukawa. We wouldn't be in this mess!
All we can do is laugh at the stupidity of humanity, and wake up as many zombies as we can.
*
The tension in the East and South China Seas has nothing to do with "fishing rights" or "artificial islands".
*

Once the game pieces have been set, a single false-flag torpedo blast from one of Israel's state-of-the-art German-made, nuclear-armed submarines could serve as the match which ignites the Pacific and draws Judaized-America into something horrific.