This filthy little rat-faced "Nobel Prize winning" economist, PBS gadfly and Slimes columnist, Paul Krugman, (cough, cough & phlegm, phlegm ) has come up with a plan for reviving the economy that can only be described as the stuff of genius. Get this new, creative, unique and never-been-tried-before idea: Krugman wants the government to borrow even more fake money from the Hebrew National Bank, er, "The Federal Reserve." That's brilliant! Because apparently the $10 Trillion in additional debt that the Obongo gang dumped onto the backs of the next generation wasn't enough. We couldn't write satire any better than this nonsense.

Haz-Mat suits and goggles on, everyone -- into Crookman's crockpot of communist crap we go.
Krugman's love for Obongo is surpassed only by his hatred for Trump. Note the childish T-shirt mocking Trump
Krugman: The campaign still has three ugly months to go, but the odds - 83 percent odds, according to the New York Times's model -
Rebuttal: The manipulated "New York Times model" that you are selling had forecast the certain downfall of Trump in the Republican Primaries on many occasions. Perhaps you should mention that, eh Crookman?
Krugman: - are that it will end with the election of a sane, sensible president. So what should she do to boost America's economy,
Rebuttal: Ha ha ha. Trump is crazy, Killary is "sane." Blah blah blah. You're so funny little man. Grow up already.
Krugman: ... which is doing better than most of the world
Rebuttal: "Most of the world" is either European-style socialist or straight-up Turd World basket-case. Outpacing them is no great accomplishment. The American economy should be compared to its booming past, not to the dying states of the EUSSR or Sri Lanka.
Krugman: ... but is still falling far short of where it should be..
Rebuttal: It's good to see Crockman admit that the U.S. economy "is still falling far short," but what this putrid lying little rat bastard neglects to mention is that it is his policies which have been in effect these past 8 years! Obongo's inner circle of economic sabatuers are all, to a man, clones of the Keynesian-Crudman School of tax, spend, borrow, regulate, litigate and inflate.
Everyone who has ever served on Obongo's Keynesian economic team all thought like Krugman -- and with disastrous results for the country.
1- Timothy Geithner, Christina Romer, Lawrence Summers (cough cough), Melody Barnes
2- Obongo stoops down to greet the Marxist midget Robert Reich (cough cough)
3- Obongo with outgoing Fed boss Ben Bernanke (cough cough) and incoming Fed boss Yenta Yellen (cough cough)
Krugman: There are, of course, many ways our economic policy could be improved.
Rebuttal: Do tell, wonderboy.

Krugman: But the most important thing we need is sharply increased public investment
Translation: "Sharply increased public investment" is Communese for "sharply increased spending" (shovel ready jobs, pork-barrel projects, featherbedding, bridges to nowhere, make-work schemes, etc.)

Krugman: How should we pay for this investment? We shouldn't — not now, or any time soon.
Rebuttal: Prepare yourselves --- the lunacy that follows is not for the faint of heart.

Krugman: Right now there is an overwhelming case for more government borrowing.
Rebuttal: This destructive little asshole really belongs in a prison cell, with a sex-crazed cell-mate named Tyrone.
Krugman: Let me walk through this case, then address some of the usual objections.
Rebuttal: Crockman is setting the groundwork for a load of logical fallacies and rhetorical tricks designed to assure us that the current $20 Trillion dollars is nothing to worry about.
Krugman: First, we have obvious, pressing needs for public investment in many areas. In Washington, the aging Metro is in such bad shape that whole lines may have to be shut down for maintenance.
Rebuttal: If true, we'll grant you that one because DC is the responsibility of the Federal government.
Krugman: In Florida, green slime infests beaches,
Rebuttal: State and local matter. Green slime infests your mother's armpits too. Why should we all have to pay for it? Next.
Krugman: ...There are similar stories all across America.
Rebuttal: Again, state and local matters.
Krugman: So investing more in infrastructure would clearly make us richer.
Rebuttal: Really? Then why did the economy worsen after Obongo's 2009 massive "infrastructure" spending?
Creepman is repeating a variation of the 'Broken Window Fallacy' which holds that a broken window is good for the economy because the owner of the window has to hire someone to replace it. What the Keynesians miss is the fact that the window owner would have spent or invested his money elsewhere had his window not been broken. There is no added net wealth to society from the mass repair of broken windows.
1- John Maynard Keynes was a Fabian socialist fag whose junk economics teaches that government stimulus, money printing and taxes can be manipulated to improve the economy.
2- An understanding of the Broken Window Fallacy dispels Keynesian mythology.
3- Insane scum like Paul Krugman and Alan Greenspan (cough cough) have incorrectly stated that hurricanes (lots of broken windows!) can have a stimulative effect on the economy.
Krugman: Meanwhile, the federal government can borrow at incredibly low interest rates...
Rebuttal: Even if the rate was 0%, it is still public debt which a future generation will have to repay in the form of higher taxes and/or inflation. What makes Crapman think that we will be better positioned to service an even higher debt 10 years from now that we are today?
Krugman: Put these two facts together — big needs for public investment, and very low interest rates — and it suggests not just that we should be borrowing to invest, but that this investment might well pay for itself ..
Rebuttal: Note the weasel word: "suggests." The first impulse here is to say that Kikeman lives in fantasyland, but that would be innacurate. The evil little Marxist knows that he spewing dangerous bullshine!
Krugman: Spending more now would mean a bigger economy later, which would mean more tax revenue. This additional revenue would probably be larger than any rise in future interest payments.
Rebuttal: Krugman is right about the relationship between a bigger economy and higher tax revenues. He fails to mention that the quickest way to grow an economy is to dramatically reduce the burden of taxes and regulations -- a policy which he opposes.
Krugman: And this analysis doesn't even take into account the potential role...
Rebuttal: "Potential", eh Crock,am?
Krugman: .. of public investment..
Translation: ... of wild spending
Krugman: .. in job creation...
Rebuttal: Shovel ready jobs ... shovel ready jobs --- shovel ready jobs. Paulie want a cracker?
We need a shovel, all right ---- and a mask!
Krugman: Despite a low headline unemployment rate,
Rebuttal: Cunningman, you sneaky sack of dog stool! You didn't think we'd catch that word "headline," which you had to oh-so-quietly put in there in order to cover your arse, did you now? Crapman won't explain what we he means by "headline unemployment rate," so we will.
You see, boys and girls, the low rate (4.9%) which the government-media complex proclaims with great fanfare and trumpets only takes into account the short-term unemployed. When we add the Gallup Poll rate of short term unemployed, long term unemployed and underemployed (here) to the sudden explosion in post-2008 fake SSI permanent disability cases (here), the real rate of unemployment / underemployment stands at 20%!

Krugman: So why aren't we borrowing and investing? Here are some of the usual objections, and why they're wrong.
Rebuttal: Little man is setting up the strawmen to be knocked down.

Krugman: "We can't borrow because we already have too much debt." People who say this usually like to cite big numbers — "Our debt is 19 trillion dollars," they intone in their best Dr. Evil voice. But everything about the U.S. economy is huge, and what matters is the comparison between the cost of servicing our debt and our ability to pay. And federal interest payments are only 1.3 percent of G.D.P., low by historical standards.
Rebuttal: First of all, were it not for interest payments on the national debt (about $220 billion annually) we could exempt the first $70,000 of income from taxation. Now that could have been some serious stimulative tax relief! So you see, the National Debt is indeed a huge burden on the middle class taxpayer -- regardless of the debt-salesman line about our "ability to pay."
Secondly, the unfunded liabilities - which Crookman and his commie kin always ignore - are the real danger. In our "best Dr. Evil voice," let us say that we are on the hook for an additional 127 Trillion in upcoming Social Security and Medicare expenses. (here) Got any ideas for paying that off, Paulie?
During the early 1920's, spend and borrow Krugmanomics eventually wiped out the value of the German currency and brought hunger to its people. This is exactly what Krugman and his gang (cough cough) would like to do to America.
Krugman: "Borrowing costs may be low now, but they might rise." Yes, maybe. But we're talking about long-term borrowing that locks in today's low rates. If 10 years isn't long enough for you, how about 30-year, inflation-protected bonds? They're only yielding 0.64 percent.
Rebuttal: Regardless of future rates, those 10 to 30 year bonds would be maturing during the same time as the previously mentioned 127 Trillion in unfunded liabilities. Why is that not in your model, Crooknoseman? Evidently, Paulie Pinko believes that by simply ignoring the 127 Trillion (a figure which far exceeds actual money supply by many times!) the hyperinflationary time bomb will just go away.
Krugman: The government can't do anything right. Solyndra! Solyndra!
Rebuttal: Actually, Paulie, the Solyndra boondoggle was a disgrace. Your childish minimization of that criminal scam doesn't change the fact that this shady solar-power firm went bankrupt not long after Obongo gave them $530 million of our tax dollars. (here)

Krugman: Benghazi!
Rebuttal: More "ad ridiculum" (Appeal to Ridicule) logical fallacy with no supporting facts to justify the ridicule-- Junior High School debate tactics. Not funny at all to the family of the American soldiers who lost their lives that night. What a pathetic small man you are, Krugman. Die, you piece of s---! Die! (of natural causes, of course)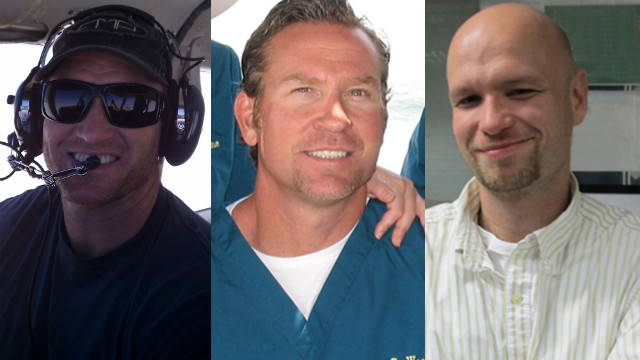 Krugman thinks Solyndra and Benghazi are punchlines for funny jokes.
1- Obama, with Solyndra CEO Chris Gronet, looks at a solar panel during a 2010 tour of Solyndra Inc., a solar panel manufacturing facility in California that went belly-up after Obongo gave them $530 million.
2- Due to Obongo and Killary's criminal negligence, Glen Doherty, Tyrone Woods and Sean Smith died in the attack in Libya.
Krugman: American greatness was in large part created by government investment or private investment shaped by public support,
Rebuttal: Wrong again CommieMan! "American greatness" was created by faith in God, Anglo-Germanic bloodlines, hard work, limited government, resource development and sound currency. In short, everything that you and your ilk have smashed beyond repair is what made America truly great.
Krugman: ... from the Erie Canal, to the transcontinental railroads, to the Interstate Highway System.
Rebuttal: Those were useful inter-state projects which ultimately facilitated commerce and expanded the economy. Don't compare our highway and railroad system to your stupid schemes to clean up green slime on Florida beaches!

Krugman: As for the constant harping on individual failures, ...Yes, some renewable-energy investments went bad ...
Rebuttal: (Sniff sniff) --- Sugar the Cat smells a dismissive "yeah-but" coming.

Krugman: ... but overall,
Rebuttal: There it is! "Yeah-buttism" in all its manipulative splendor.

Krugman: ... the Obama administration's promotion of solar and wind has been a huge success.
Rebuttal: Actually, Paulie, it hasn't. And nor was your housing bubble scheme of the 2000's. Flashback time:
The Allegory of the Great Tomato Bubble was inspired by these Keynesian criminals. (here)
Krugman: The bad news is that even if Hillary Clinton wins, she may well face the same kind of scorched-earth Republican opposition President Obama faced from day one.
Rebuttal: First of all, Paulie, the bulk of Obongo's program for American destruction was passed during his first two years in office, when he had "rubber-stamp" Demonrat majorities in both the House and Senate. After that, weak Republican't leaders refused to undo any of the Obongo policies from 2009 & 2010.

Krugman: But while the politics remain uncertain, it's clear what we should be doing. It's time for the federal government to borrow and invest.
Rebuttal: Dear Lord! Awarding this vile immature rodent a Nobel Prize in Economics (2008) is like crowning Chris "Crispy Creme" Christie Mr. Universe.