Regular readers of The Anti-New York Times already know how much "The Editorial Board" admires and respects Vladimir Putin for being such a formidable adversary of the New World Order Crime Syndicate. Nevertheless, we cannot sit by quietly when Bad Vlad -- be it out of political necessity or from true belief -- starts spouting the usual Russian mythology about World War II. Sorry, Mr. Putin, but with all due brotherly love and concern, ANYT has got to take you to the nearest Siberian woodshed for some ass-whoopin' over your latest rendition of Fake History regarding the "glorious" Soviet-Russian role in "The Bad War."
1. Dear Vlad: Stalin was an evil, filthy, conquering Bolshevik MONSTER whose European, American and Asian agents played a critical role in inflaming the world. // 2. Dear Vlad: The Soviet Rape Army captured Berlin only because the traitor Eisenhower slowed down General Patton's rapid advance --- repeatedly! // 3. Dear Vlad: The Soviet Union could not have defeated Germany without the additional war-fronts, merciless & unremitting aerial bombardments of German cities, and endless "Lend Lease" military supplies provided by Franklin Demono Rosenfeld.

Slimes: Russian President Vladimir Putin countered European criticism of a 1939 Soviet pact with Nazi Germany on Tuesday, ....
Rebuttal: The western version of the 1939 "Ribbentrop-Molotov" Non-Aggression pact holds that Hitler and Stalin conspired to divvy up poor little innocent Poland. In reality, Germany's only motivation was to thwart the publicly known efforts (here) of certain British warmongers to build a British-French-Polish-Soviet alliance to encircle and attack Germany.

Slimes: .. charging that collusion with Adolf Hitler by Western powers paved the way for World War II.
Rebuttal: This version, set forth by Putin, is just as absurd as the western lie. What he refers to as western "collusion" (Munich 1938) was actually a fair and just deal to spilt up the artificial gangster state of Czechoslovakia into various ethnic states, with the captive Germans of the Sudetenland strip returning to German sovereignty.

Slimes: Speaking at a meeting with Russia's top military brass, Putin described a recent European Parliament resolution that blamed the 1939 nonaggression pact for the war's outbreak days later as "sheer nonsense."
Rebuttal: Now we come to Putin's understandable (yet nauseating) motive for making his recent statements. The anti-Russia EUSSR is deliberately tweaking Mother Russia by partly blaming Russia / USSR for starting World War II. Putin is simply responding to Globalist Fake History with his own Fake History. "You helped Hitler!" --- "No. YOU helped Hitler! --- You're a Nazi! --- No. YOU are a Nazi! --- "Oh yeah, you're mother is a Nazi!"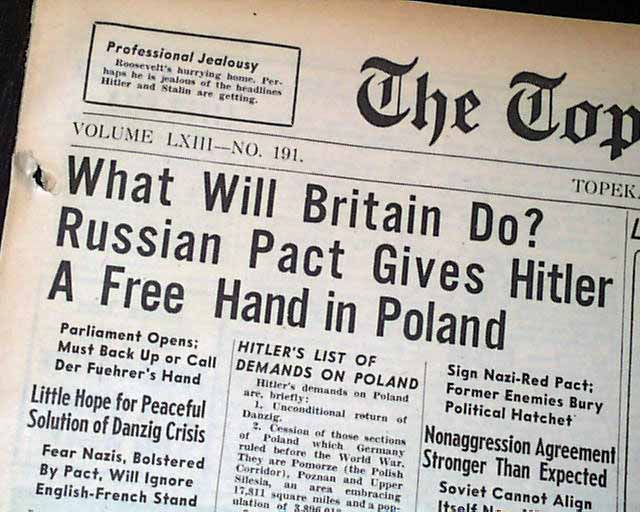 1. Molotov (seated and signing) and Ribbentrop (standing behind Molotov, next to Stalin)

2 & 3 - The western-juden press mocked and condemned the agreement.
Slimes: His remarks were the latest in a series of recent statements in which the Russian leader angrily rejected the West's characterization of the Soviet treaty with Nazi Germany.
Two weeks after Germany invaded Poland on Sept. 1, 1939, the Soviet Union invaded Poland from the east. Adolf Hitler and Soviet dictator Josef Stalin carved up Poland and the Baltic states based on a secret protocol in the Molotov-Ribbentrop pact they signed on Aug. 23, 1939.
Rebuttal: There was indeed a "secret protocol" --- but it would only be activated in the event that Poland started a war with Germany, which it did. (here). As far as the "carve up," Germany only reclaimed that territory which was stolen from her by the illegal and monstrous Treaty of Versailles that followed World War I.

Slimes: Putin cast the Molotov-Ribbentrop treaty as a move the Soviet Union was forced into following nonaggression agreements some other European nations had signed with Hitler.
He cited a 1938 agreement reached by Germany, Britain, France and Italy that allowed Hitler to annex Czechoslovakia as an example of Western leaders' alleged "collusion" with Hitler.
Rebuttal: (palm to face, sighing, shaking head) Dear Vlad --- Hitler only annexed the 98% German Sudetenland. The rest of the shitty little corrupt gangster-state of Czechoslovakia was divided into ethic states of Bohemia & Moravia (Czechs) and the Slovak Republic. Not only do you know that, but we know that you know that.

Slimes: The Russian leader focused his criticism Tuesday on Poland, citing archive documents that he claimed had the Polish ambassador to Berlin praising Hitler's plans to rid Europe of Jews (by shipping them to Africa).
Rebuttal: Thanks Vlad, for informing the world that the Poles had also grown sick & tired of the Bolshevik chosenites too. If you did that on purpose, then we salute you for your cunning. If not, well, we understand the position you are in.
Slimes: In an angry outburst, Putin denounced the ambassador as a "scum" and "anti-Semitic swine."
Rebuttal: Hmmm. The use of such strong language really does call attention to the fact that the Poles hated the usual suspects. Not sure what to make of Putin's true motive, but it is intriguing. Many people now knows about this long dead Polish ambassador and his previously unknown comments. Nice!
1. Now made famous by Putin's condemning remarks (hmmm) , obscure Polish envoy to Germany Jozef Lipski, in 1938, said of Hitler's idea for giving the Jews a homeland in Africa: "If he can find such a solution we will erect him a beautiful monument in Warsaw." // 2. Neville Chamberlain neither "colluded with" nor "appeased" ™ The Great One. They simply made a fair and just deal in 1938 which thwarted the schemes of British and Czech warmongers. // 3. In 1939, Dictator Edward Rydz-Smigly of Poland started the war which doomed his nation.
Slimes: Putin's remarks followed a similar statement he issued Friday that drew an angry rebuke from the government in Warsaw, which accused the Russian president of echoing Soviet propaganda.
Rebuttal: As it was in 1939, the dumb and unwitting ultra-nationalistic Poles, at the behest of the Globalist West, are again antagonizing a nation which means them absolutely no harm. To the contrary, Putin, like The Great One (that's Hitler for you newbies & normies) seeks sincere friendhip and cooperation with Poland.
Slimes: World War II evokes painful memories in Russia, which lost an estimated 27 million people in the war.
Rebuttal: Now it's "27 million?" It had always been "20 million!" Bullshit propaganda numbers that came from Stalin, and have since been increased. Thanks to the intrepid work of British historian David Irving, we know that Stalin privately told Churchill that 5 million Soviets had died. The numbers then expanded, partly due to propaganda, and partly due to Soviet refugees and Soviet POWs who were rounded up and murdered or imprisoned after the war.
Slimes: The Kremlin is anxious to see Soviet sacrifices and the nation's role in defeating the Nazis duly recognized as it prepares to mark the 75th anniversary of the Allied victory in May.
Rebuttal: Oh great. Another sanctimonious, vainglorious WW2 parade in Moscow's Red Square. Old mythologies die hard -- even in a nation which is currently under assault by the very same forces of evil which unleashed hell on innocent Germany.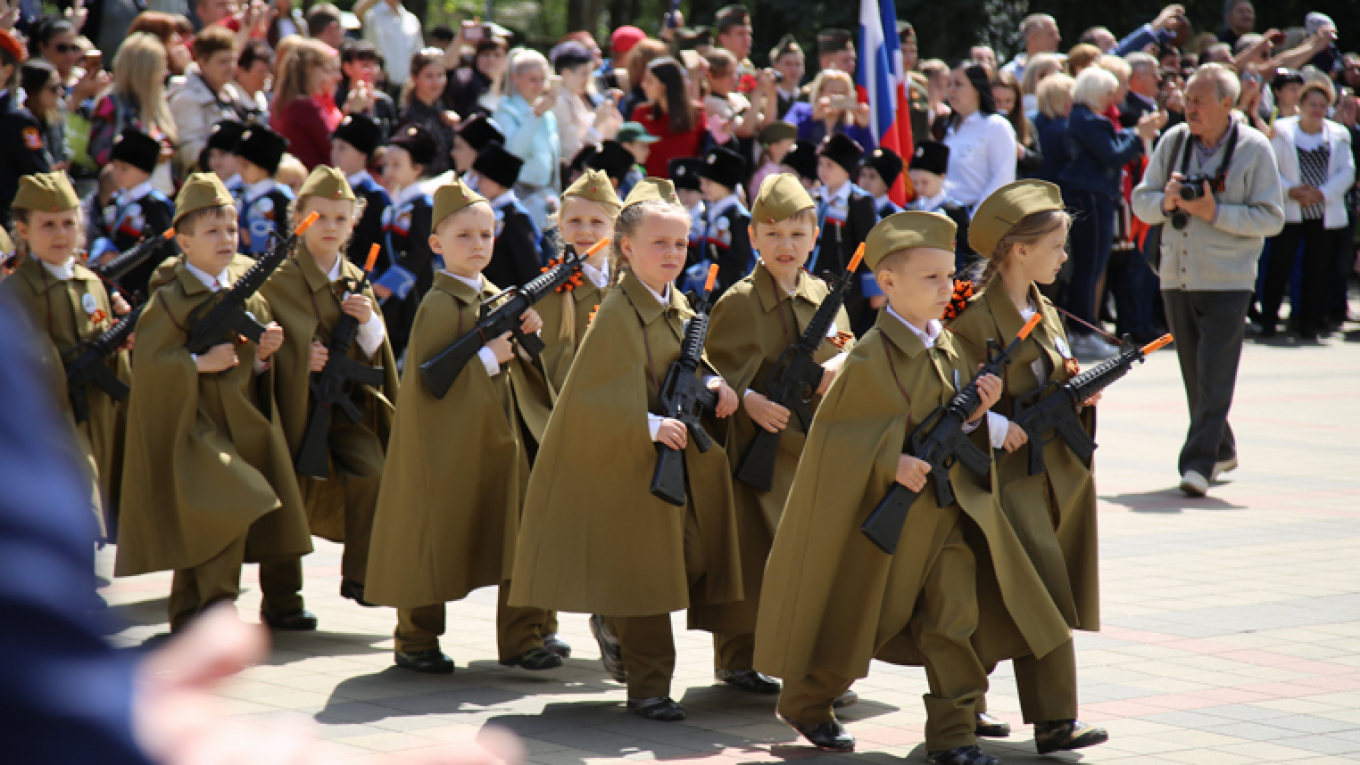 1. Though it is great to see Russian national pride and power on display during "Victory Day," the whole World War II mythology -- which is by now so deeply embedded that it can't be rolled back so easily -- is nauseating to behold. // 2. Now they are pounding Russian pre-schoolers with this bullshit.