With the beleaguered Donald Trump just about fully neutered by the ghoulish alliance of the Piranha Press, the intelligence agencies, the Demonrats and the traitors within his own Republican't Party, the nightmare scenario of World War III is once again a real possibility. Sugar and I, er, "The Editorial Board" of The Anti-New York Times takes no pleasure in having accurately predicted this development back before Trump was even inaugurated. From our December 29th issue (2016):
*************
"High-powered Senators within Trump's own "conservative" Party -- in league with the Demonrat minority and treasonous elements within the CIA, State Department and Department of Offense -- are still committed to fighting Russia.

Will they, with the help of the fake mainstream newsmedia, be able to maneuver Orange Man into a corner from which he will be forced to fight -- or, at the very least, be prevented from ever breaking bread with Putin? Let us turn to history to examine past precedents for just such a situation.
....
Peace-lovers everywhere breathed a sigh of relief upon hearing news that the hideous hag had lost the 2016 QFS (Quadrennial Freak Show). But if the McCain-Graham "rebellion" and the lessons of history are any indication, the releasing of white doves over the expected Trump-Putin "bromance" may be a bit premature. Oh, and Orange Man, if you're reading (I wish!) -- McKinley was assassinated in 1901 and Chamberlain died suddenly just 6 months after Churchill had taken his place as Prime Minister. Just sayin'."
*President William McKinley and Prime Minister Neville Chamberlain were both forced into wars that they did not want by members of their own Party.

"Peace in our time?" --- Maybe not!
Putin = Hitler / Trump = Chamberlain / McCain = Churchill
*************

Nailed it.
Coinciding with the "ominous developments" regarding North Korea, Iran, China and Russia, Vice President Mike Pence, the venomous snake-in-waiting with the smooth rap, is on an Eastern European road trip -- giving "assurances" of US "protection" and more missile systems in the face of the big bad Putin.
Headline: Washington Examiner: Mike Pence tells Eastern Europe: 'We are with you' (here)
And, from DW.com (Germany):

Headline: US Vice President Mike Pence is in the Baltic state to reassure eastern European allies Estonia, Latvia and Lithuania. Mobile missile system could plug a gap in NATO's defenses in the area.
The US is considering deploying Patriot surface-to-air missiles in Estonia, US Vice President Mike Pence told Estonian Prime Minister Juri Ratas on Sunday. (here)
And then there is this bit of sheer criminal lunacy, from Newsweek: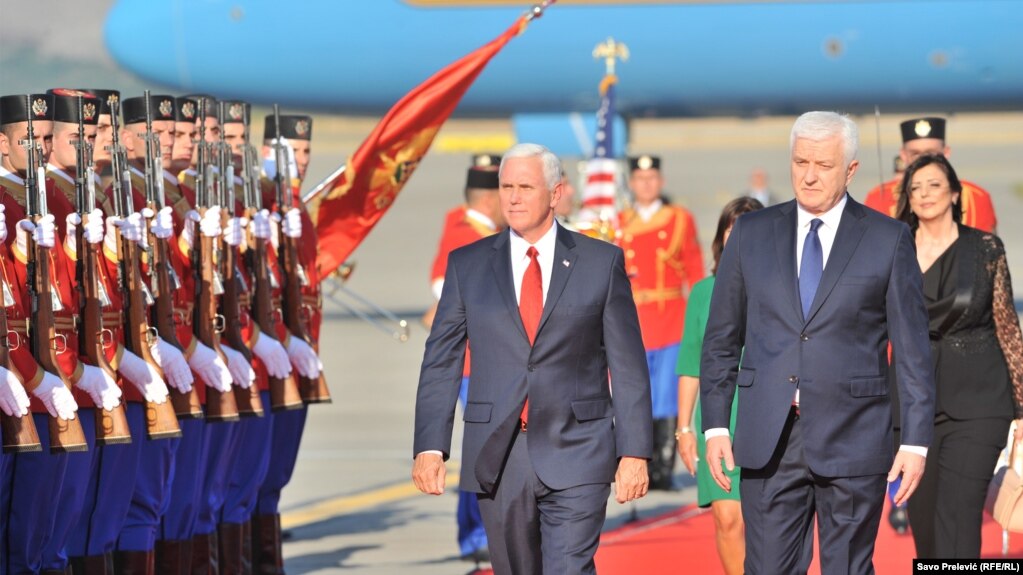 What the fiend Mike Pence, with his "assurances" to "defend Europe" is really saying to the puppet leaders of eastern Europe is this: "Pay no mind to that fool in the White House. He won't be around much longer. War with Russia is still on the table."
It's all so bloody disgusting and frickin' evil. And it is an exact replay of how the Globalists "warned" the world about Germany's "intentions" as they surrounded that peaceful nation with enemies until The Great One (that's Hitler for you newbies and normies) was forced to act -- at which time, the Piranha Press of the day began shrieking: "You see! You see! We told you Hitler wanted war!"
As it was all throughout the 1930's, Sulzberger's Slimes, as evidenced by this ridiculous piece of war propaganda, plays a major part in the war preparation. Let's have a critical look at just a few of this article's lying lines:
*
Slimes: Russia is preparing to send as many as 100,000 troops to the eastern edge of NATO territory at the end of the summer...
Rebuttal: Notice the manipulative use of the term "the eastern edge of NATO territory" -- as if to subtly suggest that Russia is doing things outside of its own borders. Why not say, "the western edge of Russia?" And why was NATO, in violation of US assurances, expanded to Russia's borders anyway?
Slimes: .... an exercise in intimidation that recalls the most ominous days of the Cold War.
Rebuttal: "Intimidation?" It was NATO that put all those tanks, missiles and troops on Russia's borders. The Russians are the ones who feel "intimidated," and rightly so, given the illustrious historical record of the NATO murder-machine.
Slimes: ... the move ...comes against the backdrop of an increasingly assertive Russia.
Translation: "Increasingly assertive" is Globospeak to describe a country that is not obeying.
Slimes: Beyond Russia's interference in the 2016 presidential election in support of the Trump campaign,
Rebuttal: A classic Existential Fallacy! There was no "interference" in the 2016 election. By slipping in that lie as a prior assumption, weak-minded readers are thus programmed to accept the foundational lie as a known fact.

Slimes: ... its military has in recent years deployed forces to Syria, ...
Rebuttal: To fight US-Israeli-backed ISIS, at the invitation of the Syrian government.

Slimes: .. seized Crimea ...
Rebuttal: Lie! Russian Crimeans "seized" themselves, for Russia, by voting by a margin of 97% to 3% to return to Russian soveregnty.

Slimes: ...intervened in eastern Ukraine
Rebuttal: Lie! The only "intervention"in Ukraine was that violent CIA-NGO-US State Department coup that overthrew a Russia-friendly President and installed a gang of vicious puppet thugs in his place.

Slimes: ... rattled the Baltic States with snap exercises
Rebuttal: The Baltic puppets have no one but themselves to blame if they allow the US to maneuver them into a war.
Slimes: ... and buzzed NATO planes and ships.
Rebuttal: NATO planes and ships that are poking around Russia's front yard. We don't see Russian warships trolling about the Florida Keys or Puget Sound, do we?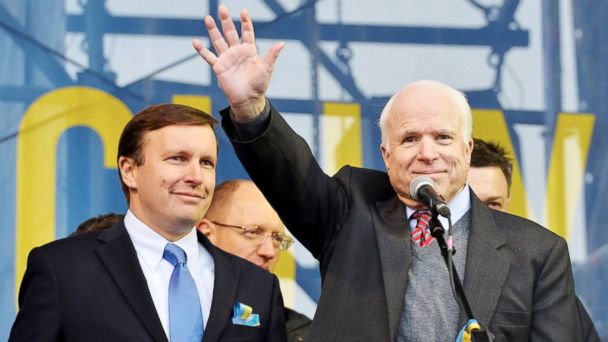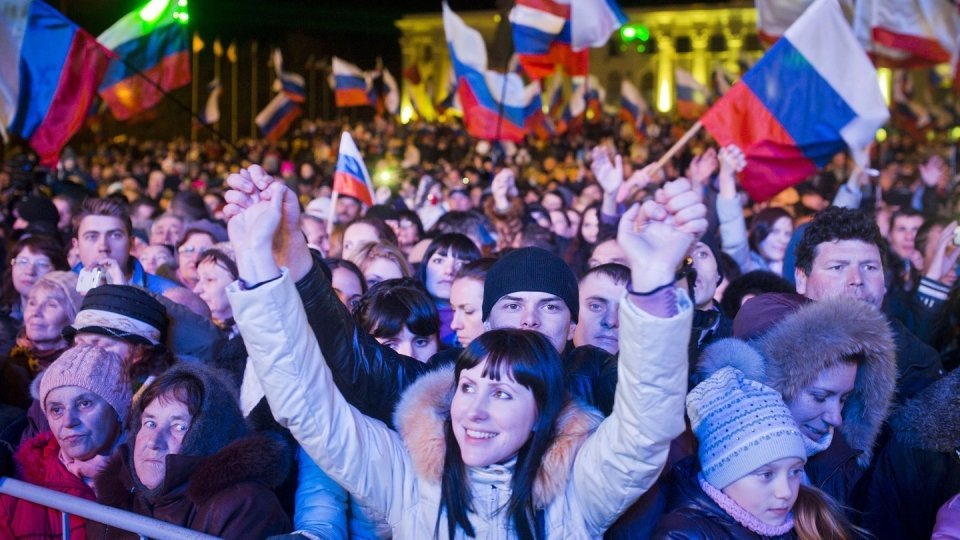 FACT-CHECK TIME!
1. McCain the Insane worked with terrorists to destroy Syria. 2. McCain the Insane triggered a coup in Ukraine. 3. Joyous Crimeans celebrate their return to Mother Russia. There was no need for an "invasion."
Slimes: The United States is taking precautions, ... "Look, we'll be ready; we'll be prepared," said Lt. Gen. Frederick B. Hodges, the head of United States Army forces in Europe. "But we're not going to be up on the parapets waiting for something to happen."
Rebuttal: A parapet is a defensive structure. By saying "we're not going to be up on the parapets waiting for something to happen," the deranged general is hinting that NATO may actually make the first move -- in "self defense," of course. (smirking and rolling eyes)

Slimes: In 2014, Russia's stealthy forays into eastern Ukraine..
Rebuttal: Lie! There were no "stealthy forays" into eastern Ukraine. Russia could have taken all of eastern Ukraine in a week if it had chosen to.
Slimes: ... and its rapid capture of Crimea ...
Rebuttal: Lie! There was no "rapid capture" of Crimea. They had their own national guard to protect their declaration of separation from puppet Ukraine.
Slimes: "There is only one reason you would create a Guards Tank Army, and that is as an offensive striking force," General Hodges said. "This is not something for homeland security."
Rebuttal: Evidently, General Hodges never learned that the best defense is a good offense. Perhaps the Russians do not wish to be pushed back to their own "parapets" when the trouble starts.

Slimes: (quoting General Breedlove): "It sends a very clear message to the Baltics and Poland."