Remember when Killary Clinton accused "the Russians" ™ of hacking some embarrassing Demonrat E-mails and funneling them through WikiLeaks? Remember when Killary claimed that "the Russians" ™ had conspired with Donald Trump to rig the 2016 election and deny her the presidency? Now that nasty rancid harridan (a $10 word for bossy old hag) is accusing "the Russians" ™ of grooming Congressgal and aspiring presidential candidate Tulsi Gabbard (D-Hawaii) as a mole and potential third-party spoiler for the 2020 QFS (Quadrennial Freak Show).
Killary's obsession with Russia and her fear of Russian agents hiding under every rock has earned her the mockery of not only the entirety of "the Right," but also some of her fellow Demonrats. Her accusations against Gabbard were certainly not her best moment. And when the feisty counter-attacking 38-year-old Congressgal strongly twitter-trashed Killary as "the queen of warmongers, the embodiment of corruption, and personification of the rot that has sickened the Democrat Party" -- it represented the hardest bitch-slap laid down on the Satanic witch since the Trump-Killary debates of 2016.
Ironically, once one understands that "the Russians" ™ is code for the "White Hats" of the NSA (National Security Agency) and other agencies; Killary, we believe, is actually telling the truth, albeit in cryptic form. Add Ms. Gabbard to the long list of character actors playing an assigned role in the ongoing mother of all "sting" operations against the Deep State. Join us for a ride on St. Sugar's "Crazy Train" as we explain.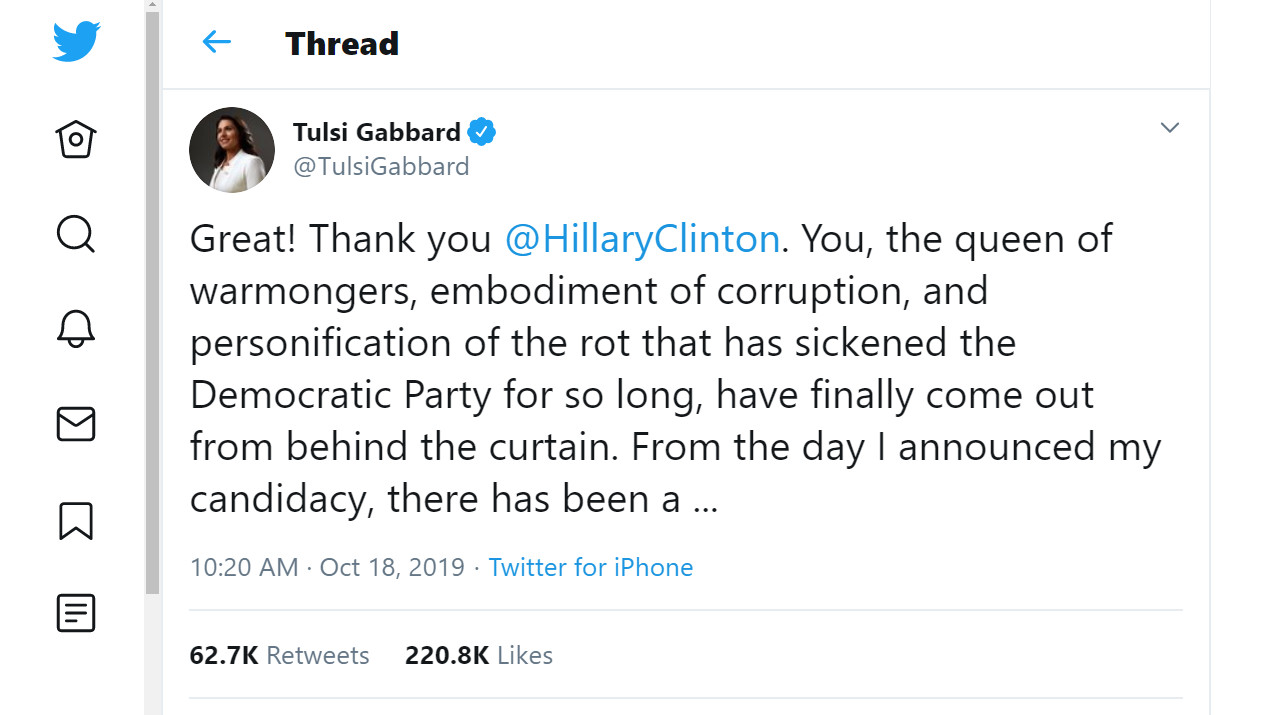 1. Killary: "The Russians have got their eye on somebody who's currently in the Democratic primary and are grooming her to be the third-party candidate." // 2. Gabbard strikes back --- hard!
*
*

* Over the course of the past two years, Gabbard has been invited -- MULTIPLE TIMES -- to appear on FOX's Tucker Carlson show. This is noteworthy because the contempible pedo-monster, Adam Schiff has accused Carlson --
a pro-Trump, anti-war conservative --

of being a "Russian agent" as well. (here)
Tulsi's background -- degree in Business Administration, Hawaii National Guard, Infantry Brigade Combat Team, Army Military Police, and Officer School training at Alabama Military Academy -- is more consistent with Military Intelligence that that of a Demonrat Party operative. Her father, Mike Gabbard, is a very rare bird indeed. He was elected to the State Senate in 2006 as a Republican in the Communist-dominated state of Obongo's Hawaii. The following year, Gabbard, known for his patriotism and anti-sodomite marriage activism, switched parties because he felt he could be more effective as a member of the permanently majority-party Demonrats of Hawaii. Nonetheless, he has angered many Demonrats by opposing parts of their platform.
In 2012, daughter Tulsi was elected to Congress. Since that time, she has talked and voted like any other Demonrat libtard, except in one very important area -- foreign policy. Gabbard's anti-war "isolationist" position, while appealing to many pro-peace Leftists, is intolerable to Party leadership. And her 2017 trip to Syria to meet with -- and later publicly defend -- the heroic President Assad drew heavy condemnation from the Piranha Press and fellow Denonrats.
1. State Senator Mike Gabbard and daughter Tulsi. // 2. Tulsi's patriotic and military background would be more consistent with Military Intelligence than Demonrat politics. // 3. Her open support of Assad earned her the animosity of the Establishment.

Since becoming a candidate for the Demonrat nomination, Gabbard has scraped and clawed her way into debate notoriety by knocking out Tim Ryan over his "we-must-stay-in-Afghanistan" policy; and verbally bitch-slapping Kamala Harris over her tyrannical record as a former prosecutor. So bad was the smack-down on Harris that it caused the Commiefornia Senator's poll numbers to crash overnight. Gabbard has also called the Demonrat Primary process corrupt; claimed that Google and CNN are biased toward Establishment candidates; condemned the elite foreign policy makers as "warmongers," and taken some strong debate shots (over foreign policy) at "Mayor Pete" Bootyfag and Loony Lizzy Warren -- which CNN dutifully cut off! Hmmm. When you put aside her cosmetically necessary libtarded positions on domestic issues, and her obligatory attacks against Trump, it does appear that Ms. Gabbard is attacking the very same people and institutions that "Russian agent" Trump is -- and drawing upon herself the same manner of vicious counter-attacks and smears from the same crowd. Some headlines from the Piranha Press:
The Independent (UK): Tulsi Gabbard Is A Letdown
The Daily Beast: Tulsi Gabbard Campaign Boosted by Putin Apologists
Yahoo: Joy Behar Says Russia Is Using Tulsi Gabbard As A 'Useful Idiot'
New York Times: What is Tulsi Gabbard Up To?
Washington Post: Tulsi Gabbard's Syria Record Shows Why She Can't Be President
Rolling Stone: Tulsi Gabbard's Campaign May Be Over Before It Starts
And on and on the attacks -- which Killary has now taken to a whole new level -- go. The Demonrats cannot ignore her; but if they attack (as Killary did) it just raises her profile. What to do -- What to do about a girl like Tulsi? But guess who is not attacking her --- Trump! In fact, he even came to her defense:
"I don't know Tulsi, but she's not a Russian agent... These people (attacking her) are sick. There's something wrong with them."
The Maestro knows that Gabbard's candidacy has the potential to cause a serious rift among Demonrat voters between the anti-Establishment (or so they fancy themselves) "peaceniks" of the rank & file on one side -- and the Establishment warmonger types on the other. The Demonrats are already afraid of alienating the demented devotees of the chaos-queens of the ultra-left "Squad" (whom we also suspect of being NSA sleeper agents). Now they have to contend with agent Tulsi causing further havoc and division within the Party. Ain't we got fun?
Though few Gabbard primary voters will end up voting for Trump over another Demonrat, many could stay home or vote for a third party candidate (like Gabbard?). Killary may be sick and evil, but she is not stupid. "Russians" = NSA / Military Intelligence. She knows it, but can't exactly say so.

1. On the debate stage, Tulsi Gabbard absolutely savaged a clearly shaken Kamala Harris by bringing up the fact that Whore Harris, as an ambitious prosecutor, once tried to conceal evidence that would have exonerated a murder suspect -- and had also laughed about the fact that she prosecuted hundreds of marijuana cases although she herself smoked marijuana . // 2. Trump defended Gabbard, but at some point, we suspect that he will strategically attack her in order to boost her standing among Demonrats. The Demonrat Party and the Fake News will NEVER allow her to win, but the internal havoc she can cause could be devastating.

*
Boobus Americanus 1: I read in the New York Times today about the war of words between Tulsi Gabbard and Hillary Clinton.
Boobus Americanus 2: Hillary was way out of line in calling her a Russian agent. I happen to think that Tulsi's condemnation of perpetual regime-change wars is valid.
St. Sugar: Sso, Boobuss -- you agree with Trump then?
Editor: By the time this tactical manuever plays itself out, Gabbard may actually end up pushing some anti-war libtard Demonrat voters into the Trump camp.

COMMENTS / FEEDBACK / INSULTS / KUDOS
E-mail: GreatTomatoBubble2@gmail.com